Comics on the Brain is, most assuredly, NOT the right type of people to write about music.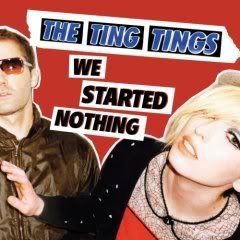 We can't even fathom how it's put together and what makes it good or bad, but we do know what we like, and today we like The Ting Tings.
The British duo's 2008 debut album, "We Started Nothing," features a couple of great songs that are still in heavy rotation on Sirius satellite radio, and every one of those songs gets your feet tapping.
"Shut Up and Let Me Go," in particular, features a great throbbing beat and particularly hypnotic video. And since both members of the group are credited as drummers, it's not hard to understand their ode to "the drums, the drums, the drums" in their first big song "Great DJ."
The best of the whole album is "That's Not My Name." It's here were they perfect their mix of an early punk/new wave sound dressed in modern stylings.
Even beyond those great songs, there's plenty to enjoy with in the album. Sure it's not perfect, but who can't resist the Bjork-like "Traffic Light," or their off-the-wall lyrics: "You keep playing me like a fruit machine/Feeding in change systematically"?
While some detractors complain that the group is overhyped and their sound isn't all that diverse, the albums hit songs, plus the extra tracks, have just enough oomph to make it a worthy purchase.
I say if it gets you singing and moving, it's good, and The Ting Tings certainly do that.
[youtube https://www.youtube.com/watch?v=NcsBqtTrZMI&w=560&h=315]
This article was originally posted on a whole other blog in 2008. That blog has now gave up its ghost. We present this to you, now, for posterity's sake.