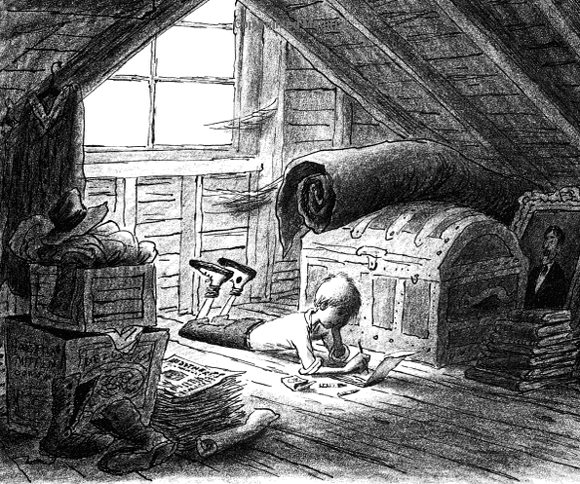 Comics on the Brain has mentioned before how much we love Bill Peet, a children's author in the 1960s and 1970s. In fact, if you didn't listen to our advice then, go now to your library and check out five or six of his books and read them. Do this right now.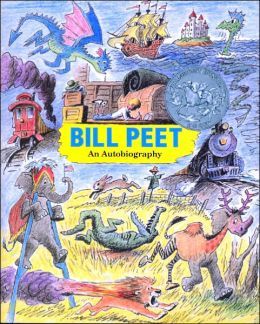 Not only are they funny, but you'll love the art that Bill Peet provides. In fact, it will probably seem very familiar to you since he worked for Walt Disney Studios for so long and his mastery is evident on a number of its famous movies, including "Snow White" and "Sleeping Beauty." Later, he actually helmed the production of "101 Dalmations," "The Sword and the Stone" as the screenwriter and "story man." Though uncredited, he was also key in developing "The Jungle Book" for Disney
We ran across an extra special book by Peet one day in Books-A-Million. "Bill Peet An Autobiography,"is  his own narrative of growing up in Indiana before moving West to California were he went to work for Walt Disney.
In it, the author explores his childhood, including his rocky relationship with his father, and through his story we see where his thematic interests developed. You can see Peet's wild-eyed wonder for all things natural, for example. There's also the farm life in Indiana, the energy of the circus and the allure of locomotives.
Once Peet left school in Indiana, he visited California for a Disney try-out where he's one of the last to survive the process. From there, he worked his way up through the Disney Studio ranks, eventually forging a relationship with the head honcho himself.
While Peet never implies that he was anything other than a worker that Disney admired, you do get the idea that Disney felt some sort of kinship with Peet. It's particularly interesting to read the story of Disney's discovery that Peet came to work one Sunday.
"Bill Peet An Autobiography" is meant for young readers, and is especially appropriate for kids interested in art. Still we recommend it to anyone with an interest in Disney history or illustrators in general. Further, if you don't believe CotB on just how good this book is, then note that it was a 1990 honoree for the Caldecott.
Our chief complaint with the book is a minor one, it doesn't talk much about Peet's life after working with Disney. We would have liked a book-by-book breakdown of his works. He certainly talks about several of them along the way, but it would have been nice to learn the backstory of every one of them.
The highlight of the book is that every page is illustrated with a scene directly related to the text above or below it, and if you love Bill Peet's art (or the Disney style in general) then this is a perfect book for you. Aside from those picturesque Indiana farms, you get a glimpse at the Disney studios back in the day and some intriguing samples of his animal-centric character designs.
And if there's one thing to love about Bill Peet, it's the way he draws his animals.
Bill Peet An Autobiography
Written and illustrated by Bill Peet
ISBN: 978-0-395-68982-0
ISBN: 0-395-68982-1
$16.99
190 pages
Sandpiper Houghton Mifflin Books