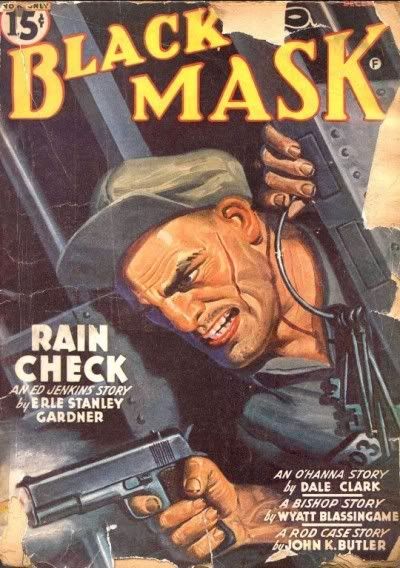 A lot of pulp magazines feature a dashing hero as the main image. This is the sort of guy with a full head of hair, a chiseled chin and looks that could make him a great used car salesman.
Other pulps go for the exact opposite.
Every hero pretty much looks alike, but the pulp villains and the mooks? They can have scars, disfigurements, missing body parts and maybe even a pair of beady eyes.
That's what caught Comics on the Brain's eyes on this issue of Black Mask from December 1941.
Even if this guy is the hero (maybe Ed Jenkins, in fact), he doesn't look like one. He looks like the tough guy on the cell block. He's got the knife gash across his cheek.
Heck, he's so slippery he's not even willing to look us straight in the eye!
Just add up the elements that make this cover a great one, it makes for an incredibly compelling cover.
You've got:
The craggy faced villain.
The easy to identify jail setting.
A blazing gun.
The great Black Mask logo.
Covers like these show us what the hero is up against. They show us who we need to be worried about.
---
This issue of "Black Mask" features an Ed Jenkins story as it's big draw. The character debuted in 1925 and his adventurers continued on until a 1961 feature length novel.
 Written by
Erle Stanley Gardner
, the creator of Perry Mason,
Ed Jenkins
was "a loner and a fugitive, a master of disguise and a con artist supreme, a self-confessed 'outlaw, desperado and famous lone wolf,' working both sides of the law, pitting cops against crooks, and all in the name of his personal gain. Make no mistake. Jenkins is ultimately looking out for only one person: himself. He's only five foot seven-and-a-quarter (Gardner's exact height, in fact) but he's plenty tough."
Sounds like a great character for a "new pulp" revival, or even a comprehensive reprint!