Comics on the Brain can't let its own specialized celebration of St. Patrick's Day, the beloved snake-stomping holiday, slip away.
Every year, the CotB gets a dose of Irish culture in a decidedly American way: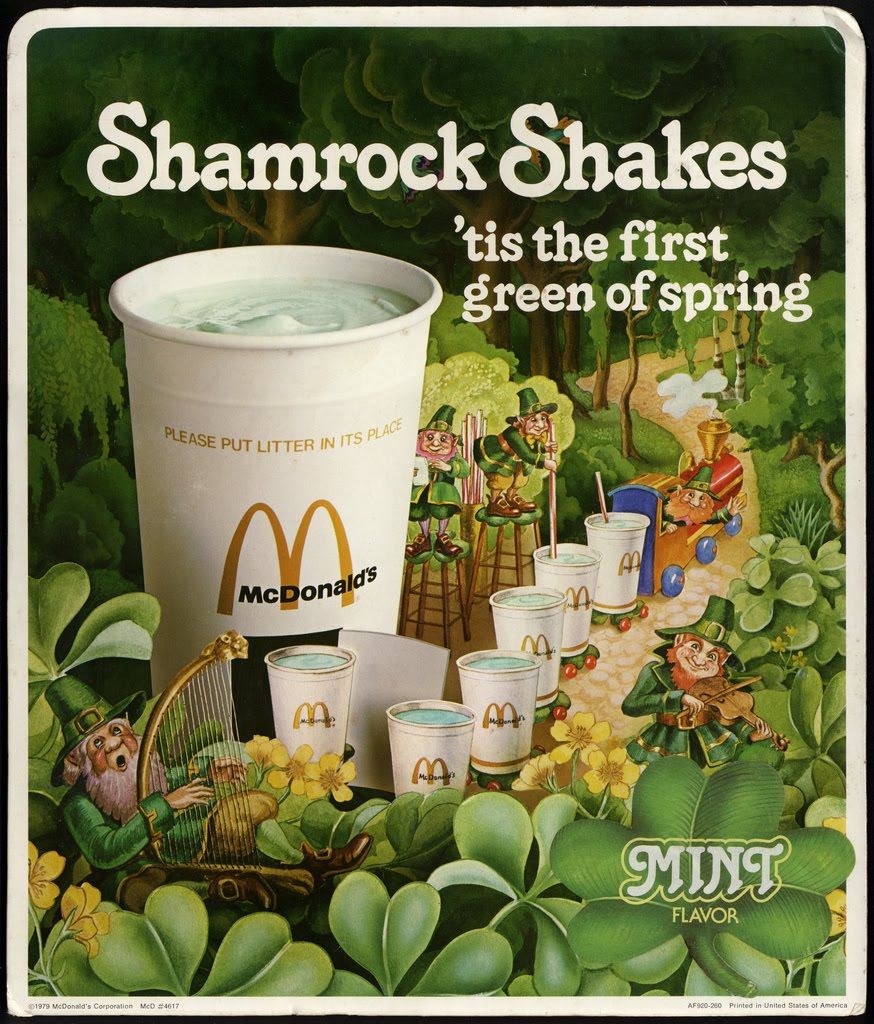 We load up in the Comics-on-the-Brain-mobile and go buy a Shamrock Shake at McDonald's.
Yes, it's hard for me to avoid the lure of its minty goodness. The luscious green goo calls to me every year at the start of March. And, like a lemming responding to its suicidal desire for a cliff dive, the CotB crew pulls into a Mickey-Dees and buys the largest possible container they have of the stuff.
And then for the next hour or so, we suck down the frosty treat, filling up to the point of bursting. St. Patrick himself would be amazed by our gluttony.
In recent years though, Shamrock Shakes have been phased out as a national campaign by the fast food restaurant. In fact, according to McDonald's web site the only place you're guaranteed to get a Shamrock Shake this time of year is Ireland itself.
And for further Irish-themed inspiration, check out a few Shamrock Shake vintage ads here, here and here.
But never fear emerald shake-loving reader, the drinks are actually available on a store-by-store basis here in America. Individual franchises can order the drink mix if they choose to do so. The wisest buy enough Shamrock supplies to last them through most of March.
That, of course, means there's plenty time to get one for yourself — even after St. Patty's Day.
Still Shamrock shakes are rare enough that a special Web site, ShamrockShake.com, has popped up to help diners get their mint-fix for the season.
The site allows users to post shake sightings at individual restaurants and comment on the quality of their experience.
Some report the dreaded "Shake shortage" as supplies have run out. Others say restaurants that used to stock the shake no longer offer it. The lucky few report multiple purchases over several weeks.
So if you've got the luck of the Irish, and a longing for a mint-induced belly ache, zip out to your local McDonald's and demand what's due to you — a Shamrock Shake of your very own.