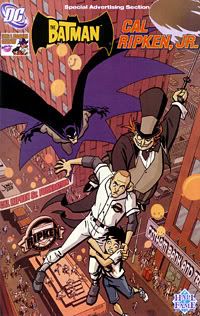 It's almost spring, and in the baseball world, "almost spring" really means Spring Training is well under way. And since Comics on the Brain is a blog about comics, we figure it's best to stick with what we know best — and that would be comics.
But never fear, we managed to find a comic about baseball!
Through the miracle of Big League Chew, that ooey-gooey bubble gum that's sold in chewing-tobacco style bags, The Batman and Baseball Hall of Famer Cal Ripken Jr. finally got to meet.
Whether it's a good thing that the two joined forces is entirely up to you, though.
The two titans run across each other in a special advertising comic insert that appeared some kid-oriented DC Comics back in 2007, including "Justice League Unlimited."
The tale takes a remarkably svelte Cal Ripken Jr. to Gotham City where he's featured in a parade celebrating his entrance in the Hall of Fame. Since Ripken is a former "bird," the parade attracts the attention of the nefarious Penguin, who kidnaps the ballplayer and a fan to hold them ransom.
I won't tell you how it all turns out, but let's just say it involves a whole new take on the idea of a spit ball.
While you're at it, have your kids check out Big League Chew's web site, where you can design your own sack of Big League Chew. CotB found that idea to be more fun than the comic, especially since we can now produce some BLC with a picture of the CotB staff playing video games, pulling weeds in front of the office or maybe the intern taking a shower.
So if you're heading to Baltimore for a family outing, check out any of the "Johnny DC" line of DC Comics April 2007, because maybe your kids will enjoy an Oriole-themed comic to keep them entertained on the way.