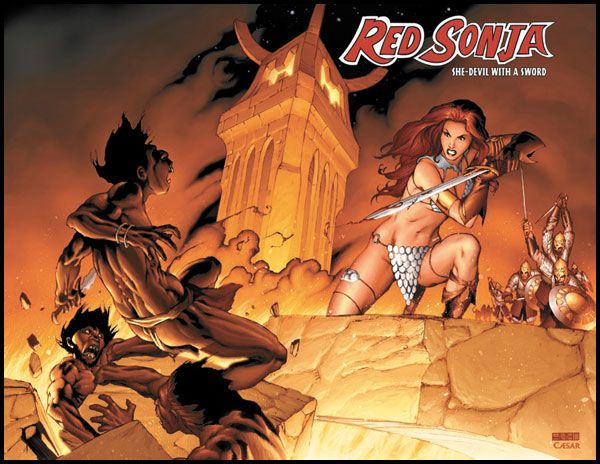 I review comics on Twitter at twitter.com/johnsimcoe. Here are the July 2009 through April 2010 reviews!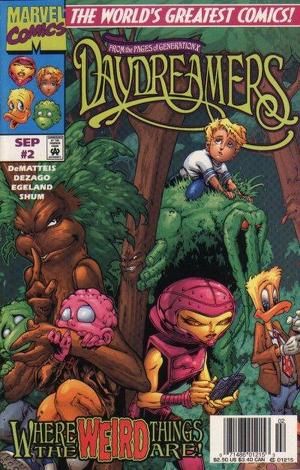 Daydreamers
No.1 (Aug 97): Playful romp into Marvel Universe mythology. Not necessarily an easy read though as not much is explained.
Daydreamers
Nos. 2-3 (1997): Concludes in a way you only understand if you know a buttload of MU backstory. Artist a good clone of Wieringo.
Scary Tales No. 1 (1975): Intro to grooviest horror host ever – Baronness R.H. Von Bludd. She's ~fine!~ And the stories are amusing too.
King Conan No. 13 (Nov. 82): The barbarian makes short work of 3 wizards who had been plotting against him. Early Marc Silvestri work! A+
Red Sonja: She-Devil With A Sword Vol.1 — Story that brought Red back is worth the bucks. Great art, vibrant action and chainmail bikinis!
Hot Shot Hamish Annual 2009 (2008): Hulk-like soccer player helps a Scottish team win big. Reprint of a 1970s strip. OK for what it is.
Spent (2007): Indy artist Joe Matt spends 100-plus pages talking about his masturbation habits. Yeah, this isn't a comic for everyone.
Aquaman No. 42 (March 98): Intro to a new villain, Sea Wolf. I was interested enough to want more. Art was mediocre, kinda Bart Sears style.
Aquaman No. 44 (May 98): Guests Sentinel and Garrick. Features a sea monster egged on by Triton. Very mundane issue.
True Story Swear to God (2003): Great story on a budding romance. Appreciate the honesty in this. I liked so much that I finished in 4 hrs.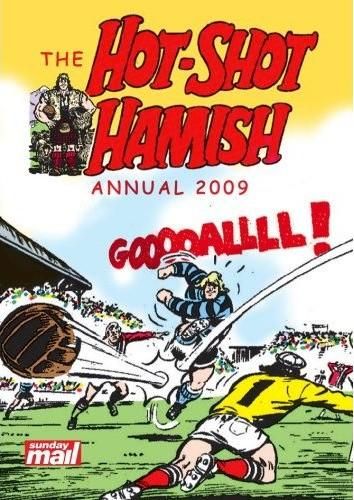 Hulk: The Monster Unleashed (2008): Basic Hulk stories for the uninitiated. In honest, I like these better than most "adult" comics.
Son of Samson and the Raiders of Joppa (V. 4): Not as good as the previous
volumes, but I still love the art. Conan-light style adventure.
Booster Gold No. 21 (Aug 09): BG invades the batcave. Blue Beetle smashes a robot. Good enough, but not great. Bored w/ time travel tales.
King Conan No. 1 (Mar 80): Classic Conan with Buscema on art chores. Take that for what it's worth, but I'll tell you: It's worth a lot!
Amazing Spider-Man Family No. 6 (July 09): Interesting reveals about Jackpot. Back up features are mixed bag though. Between Flights: A+!
Blackest Night No. 1 of 8: DC's big to-do of the summer. Yeah, whatever. If you're not into GLs, you won't be wowed by this.
Power Girl No. 1 (Jul 09): Nice start that sets up a non-hero life for Karen. Back-and-forth of action & regular scenes wasn't done well.
Power Girl No. 2 (Aug 09): PG vs. Ultrahumanite. Solid superhero book here. Kind of old school, and that's how I like my comics.
Power Girl No. 3 (Sept 09): PG puts the hurt on UltraHumanite. Good set up story for series that I'm already quite fond of. Old-fashioned!
Steve Rogers Captain America No. 2 (Feb 98): Exciting story as Cap rescues a sub from Hydra. Great comic all around. Worth rereading.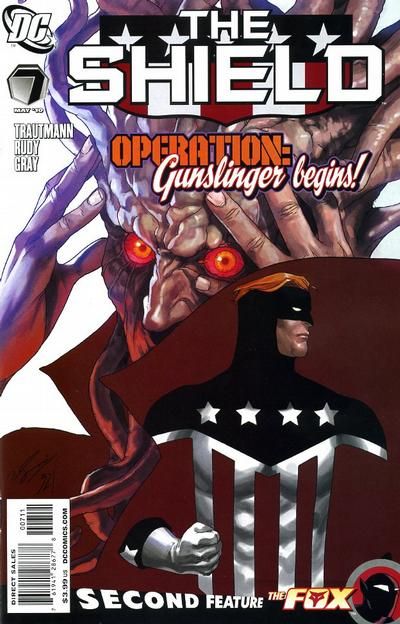 Captain America: Sentinel of Liberty No. 6 (Feb 99): A look back at an early
untold tale where he first fights Iron Man. So-so backup feat.
The Shield No. 7 (May 10): Bought this for the backup of Fox, which I liked. Shield was "G.I. Joe + 1 Superman." OK, but title won't last.
G.I. Joe (2009 Movie): Far better than TF2, and the story made some sense.
Explosions, car chases and silly characters. A+ Summer film.
Superman: Secret Origin No.1 (2009): Comparable to 'Smallville,' but rewarding look at Big S's earliest years. Artist Gary Frank always A++.
Action Comics No. 879 (Sept 09): 1st Captain Atom co-feature is pretty much wordless and uncompeling. Any where's Supes in the other half?
Supergirl 42 (Aug 2009): Aftermath of "Superwoman" arc raises some interesting issues for the Lanes and the Langs. Wonderful art.
Supergirl No. 43 (Sep 2009): Supergirl struggles with mom issues. This one
clinched it for me, I'm sticking with this title. A+ for last 10.
Werewolves on the Moon No. 2 of 3: Ha! Another fun issue. Wolves are like metalheads, and really, who respects a metalhead?
Lockjaw and the Pet Avengers (1 of 4): Undeniably cute and amusing. I love to see books like this, and hope to see more.
Lockjaw and the Pet Avengers No. 3 of 4: The PAs vs. Monstro! This series is one of the best of the year thanks to its sweetness and humor.
Ellery Queen Mystery Magazine (Aug 09): Enjoyable short stories with a mostly modern edge. Good for an evening read without a doubt!

Nova Nos. 5-7 (2005): Picked these up cheap, but sadly not too impressed.
Always liked the character though. Wish it could be better.
Buck Rogers No. 6 (1980): Been reading a little of this series, it seems a
smidge better than the crappy 1970s TV show. Not saying much.
Buck Rogers No. 16 (1982): Goes against Sleestak-like slavers. Story not
bad, but art was. Top-notch cover probably helped sell this issue.
Nancy Drew No. 4 (2005): Nancy goes to India to help a call-center operator. Oookay. Anyway, decent enough, but not great.
Doc Savage No. 1 (Jun 10): Not impressed with this really. Wanted more pulp appeal, but it's set in modern times. Boo! Art not so good.
Johnny Monster No. 1 of 3: Really not too bad. I like the premise, but had issues with the "reporter dialogue" that framed the issue. B-
Athena Voltaire and The Black Coat One Shot (2009): Wow this captured a perfect pulp vibe for me. Highly recommended!
North (2009): A Pittsburgh Toonseum project showing off the city's north side. Funny and informative tour. Well done for a freebie comic.
Gettysburg: The Graphic Novel (2008): Nice mix of historical record and comic book styles. Should be good for any classroom or history buff.
NorthWest Passage No. 1 (2005): Comic about fur-trading post in Canada. Who'da thought? Nice art, lukewarm story. I'd sample another though.
Irredeemable No. 2 (May 09): When you don't understand a cliffhanger, is it really a cliffhanger? That's what makes this issue stumble. C-
Lethal Legion No. 1 (Aug 09): Somewhat interesting footnote to the Dark Reign story. Will explain why Wonder Man joins this team of badguys.
Wednesday Comics No. 1 (2009): Wow, this is a great product. I think the cover stinks, but inside it is truly amazing. Only disliked 2.
LiveWires — Clockwork Thugs, Yo! (2006): Well thought out sci-tech coupled with a decent story. Not a fan of the art though. Too Manga-ish.