Comics on the Brain is lucky enough to be on a comp list of sorts from DC Comics. We get stuff from them every once in a while (maybe once every three months).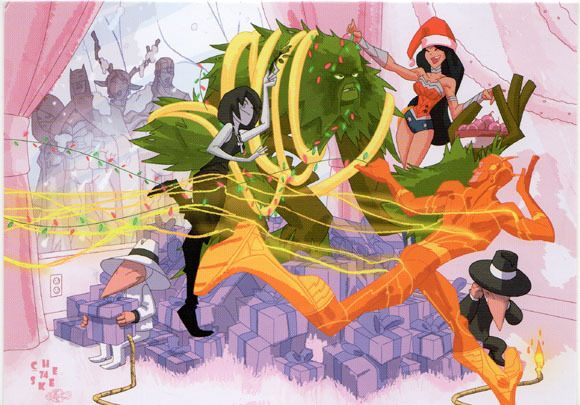 For a while we even got a Christmas card from the DC public relations staff. The image below was from the company's 2011 card — a neat little mish-mash of some of their properties.
As you see, the Flash, Wonder Woman and Death are busy decorating a Christmas tree. Not just any holiday tree, but Swamp Thing. Meanwhile, the Black Spy and the White Spy from Mad magazine are trying to outwit one another.
Outside, we see a group of carolers, comprised of a scowly woman, Batman, Changeling and Cyborg.
The art is signed by "Cheeks 74." You can see more from the artist here.
A pretty cool card, don't you think? So anyway, Merry Christmas from Comics on the Brain and (unofficially) DC Comics!