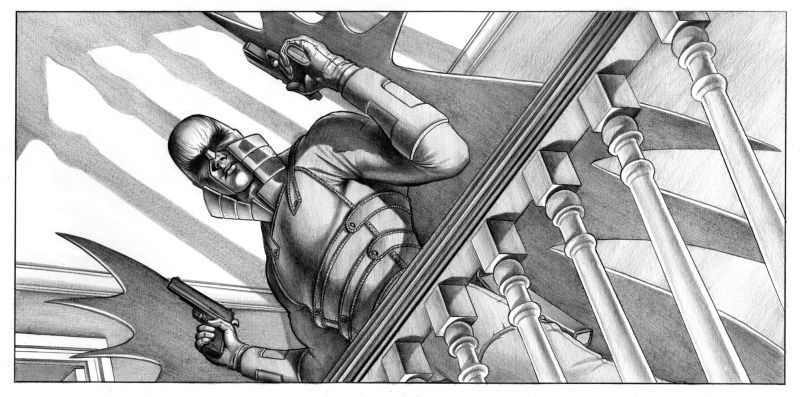 In the vast expanse of the publishing world, New Pulp is just one of the niches. The genre is an attempt to revitalize the stories and styles of the long-lost pulp magazines — where in a short story of 10,000 words or less a brave hero manages to solve the mystery, save the dame and dispatch the villain.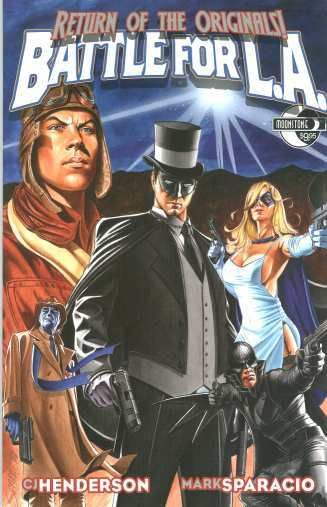 Pulp magazines are also noted for their lurid covers and brash nature. Guns are always blazing. Romance is always hot. Villains won't back down until they lay lifeless on the sidewalk.
New Pulp hopes to capture all that in a novel-sized package that usually contains a nice cover and 10 or 15 new pieces of art scattered throughout.
But in "Return of the Originals! Battle for L.A." Moonstone Publishing tries presenting a New Pulp story in an entirely different way. (Actually, they did it in a Kolchak book first, but he isn't exactly a pulp character).
Instead of page after page of text, the "Battle for L.A." offers a sort of "cinematographer's look" at the story as it unfolds.
Most pages are split into three sections.
The top of the page carries the text of the story by C.J. Henderson.
The middle of the page carries a photo-realistic illustration by Mark Sparacio that stretches over each double page spread in a "widescreen" sort of view on the action.
The bottom of the page carries even more text of the story.
The result is a fast-paced short story that spills from page to page and is chocked with action and visual impact.
The story, for example, primarily is told from the point of view from the Phantom Detective (the guy in the top hat), and it ends up being the right choice. He leads us from strange happenings in New York to even stranger happenings in Los Angeles and with all the weirdness going on, he doesn't miss a beat and he easily keeps up with the reader's intuitions.
The art, in all honesty, is nothing short of stunning. Even in black and white, it's lush, full of life and always capturing the right moment of action described in that very same layout.
Fusing the art and the words together, Moonstone has come up with a stellar product. In fact, it's a publication that deserves additional study by the fans of New Pulp because of all the experiments I've seen in the genre, this is what captures the feel of pulp magazines more than anything else tried to date.
Why? Because it's a true merging of the best parts of the pulp magazines.
First off, C. J. Henderson has penned a great yarn. It's not groundbreaking on its own, but it's lively and doesn't waste a single letter. Nothing is drawn out. There's never any clunky dialogue. It's an action story, through and through.
Secondly, Mark Sparcio's illustrations brilliantly capture the movie-serial nature of the pulps. This art — from its Panavision shape to its gorgeous shading techniques — instantly pulls you into a noir movie atmosphere. That's the style that almost every pulp illustration from the 1930s and 1940s tried to do, and in "Battle for L.A." you get it 30 times over.
My advice to all the New Pulp publishers out there is this: This is the form you want to emulate for all your publications. This is the kind of book that you can sell to non-fans. This is the kind of book that can push New Pulp to the next level. This is the kind of book that will make people understand what New Pulp is and what it has to offer.
Some people probably will argue with me about this. The book is a little over 80 pages long and costs $10. It might even seem a little steep. Heck, it's two years old as I write this and seems to have been barely noticed. Maybe the price is too high. Maybe it wasn't marketed well enough.
But that doesn't matter. This is something that really clicks.
Publishers, you need to copy this format. Put one story in your next book and illustrate the hell out it. Keep the price under $10. Then publicize it to the New Pulp people and the general public.
Further, offer titles like these as illustrated e-Books. Those images were practically custom-made to live on an iPod, Kindle or Galaxy. This is a true way to meld all the great things of a pulp — great art, short stories and action — and deliver it to a modern audience.
Quite frankly, this is the format that's going to work.
Making books like "Battle of L.A." are what's going to start a whole new art form — An illustrated action story. One story. Lots of pictures. Action — tons of it.
This is the real deal, folks. Get working.