Big things can come in small packages.
That's a recurring theme with "Buffalogistics: Tales of the Amazing Conroy No. 3" by Lawrence M. Schoen.
First off, the little booklet it all comes in seems … well, a bit meek. It doesn't look like anything worth your money.
But that's when Lawrence M. Schoen changed my mind. He told Comics on the Brain something like this: "It's about a former stage hypnotist who corners the market on Buffalo Dogs in human space. They look like little buffaloes, but they're able to ingest any form of matter — no matter how polluted or poisonous — and then they fart oxygen. As you can bet, they're extremely valuable for spacefarers."
Yes, we suppose that they would be valuable and with his crazy, yet intriguing, premise Schoen had us sold. We bought his novel, "The Buffalito Contingency" and he gave CotB "Buffalogistics" as a bonus to the buy, which he suggested we read first.
Inside the bonus book are two short stories about the Amazing Conroy and his little pets. The first is"The Matter at Hand" and the other is "Requiem."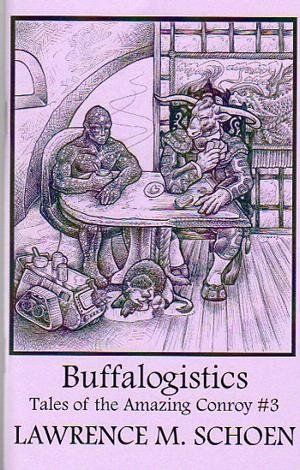 "The Matter at Hand" depicts a high-stakes card game that has rules that we, the readers probably don't really need to understand. What we do need to understand is who knows what and what people seem to know but don't really know..
You understood that right? Well, it's OK if you didn't because Schoen deftly offers us a ruse about telepathy and how it can be bluffed.
That tale is followed by "Requiem," which explores the "Amazing" part of the Amazing Conroy. More specifically, it lets the reader in on how Conroy became a stage hypnotist. It's an interesting yarn involving a graveyard world, Thing-like aliens and how we (and aliens) pass on into the great unknown.
Both stories were impressive, thought-provoking tales that admittedly surprised us here at Comics on the Brain. We bought the books knowing it was a gamble — this little booklet just looked kind of shoddy. But in this instance "Buffalogistics" paid a nice dividend. (We'll let you know about "The Buffalito Contingency" later on.)
The stories were well-written, offered a unique voice and explored sci-fi topics in a way that the reader just doesn't expect. All that praise aside, Schoen would be well-served if he ditched the "fan press"-style pamphlets and delivered his short-story "chapbook" in a slicker package — one the befit the quality inside.
That minor complaint aside, we're betting Schoen, his buffalo dogs and the Amazing Conroy have a lot to offer the sci-fi world in the future. So keep it coming, because we want to know a lot more about how buffalo farts can save the universe.