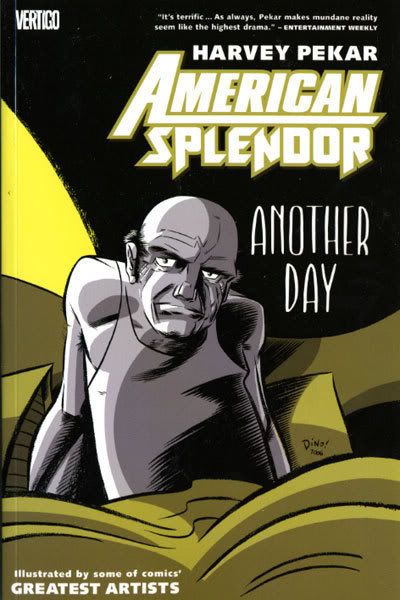 For the longest time, I've been a comic book fan that pretty much ignored any comic book that didn't have a guy in tights and a cape. It was superheroes or nothing at all, and you couldn't get me to pick up a "funny animal" comic or a "grown up" story of real life.
But in recent years, that's changed for me. I've either grown up myself or gotten bored enough with superhero fare that I want something more.
I get a lot of DC Comics and Vertigo comics, and among the best in recent years are two originals by comic-book legend Harvey Pekar, who died in July 2010.
He was the writer behind the seminal independent comic book "American Splendor," which was made into a wonderful movie featuring Paul Giamatti.
In the movie, Giamatti plays Harvey Pekar, the grouchy file clerk who turns to writing a comic that offers an unsentimental look at his life.
With the success of the "American Splendor" movie, Pekar teamed up with DC Comics in the mid 2000s to produce the two hardcovers: "The Quitter" and "American Splendor: Just Another Day."

In "The Quitter," we learn get a glimpse at Harvey's early life. It shows how his decisions — mostly to quit doing things he wasn't great at — led him down a particular path.
"Just Another Day" is different from the book-length narrative offered in "The Quitter" in that we see random snippets of his life.
In particular, the reader begins to see how Pekar's own thoughts cause him much more anguish than anything the world can dish out.
My favorite short story details Harvey's harrowing day of avoiding one problem after another in an effort to get his sedan inspected. It seemed at every turn Harvey expected the worse, only to have things work out again and again.
Despite his constant fretting, the car passes and gets its inspection sticker.
He should be happy, but his doubting nature isn't satisfied until something goes bad.
And it does: Despite an intense effort, he puts the inspection sticker on crooked.
A minor problem indeed, but just enough to mar an inexplicably good day.
Just bad enough to satisfy his expectations.
In his mind, he's again confirmed the world's out to get him, and he can go home with the universe in the proper alignment.
That's the kind of story that makes reading comic books so rewarding. Sure, I'm still buying superhero comics, but more and more I'm enjoying comics from every genre.