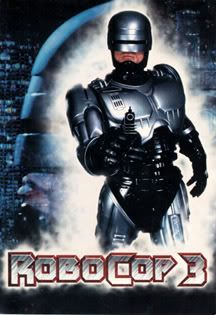 Since the staff at Comics on the Brain are big time RoboCop fanatics, and we know you are too, we though you might get a kick out of this screening invitation to the New York premiere of "RoboCop 3."
We were invited thanks to our then post as student reporters at the State University of New York College at Brockport, where we wrote far too many articles about the then-new phenomenon of bicycle cops.
Yes, we dreamed of writing about RoboCop, and got stuck writing about campus security on 10-speeds.
The other problem was that the premiere was in New York City, while CotB was attending college all the way across the state near Rochester.
The funny thing is that CotB did finally get to publish a review of "RoboCop 3," and it was a negative one just like everyone else's, a few weeks later shortly after its nationwide opening.
In short, the film was just an action movie and was totally devoid of the sly critique of the modern world and commentary on commercialism that was found in the first film. The second RoboCop film wasn't much better. Instead, "RoboCop 2" focused on the nihilistic aspects found in the original film. Neither was able to pull it all together like the original.
Now, almost 20 years after the film franchise folded, a new "RoboCop" film is in the works. Early reports have CotB quite concerned, but we'll keep on hoping for the best.