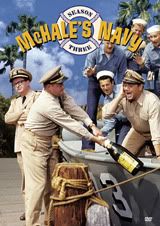 "McHale's Navy" always reminds me of Saturday afternoons at my grandma's house. She got cable and my family didn't, so it was like a wonderland of TV whenever we visited.
Among the favorite cable treats was watching Quentin McHale and his frat-boy version of the Navy. I was able to pick up the third season of the series, which hit the DVD racks years ago. Like I did, I bet you can find it for just a few bucks. It was produced by Shout Factory, a retro-TV on DVD company known for digging up classic series.
Starring Ernest Borgnine, the series actually started before the remarkably similar "Hogan's Heroes." In "Hogan's," the Nazis replaced the Japanese. Just like "Hogan's," the war was only secondary for "McHale's."
Instead, it's a show about one-upping the crabby Col. Binghamton, played to the hilt by the all-too-cranky Joe Flynn.
Beyond Borgnine and Flynn, the real star of the show is Tim Conway. Here, in his early years, the comic genius shows how to expertly play the dimwit, and in every episode he easily gets the most laughs.
Watching the show, it's soon apparent that you've heard many of the actors before. With a cast filled with distinctive voices, many of them were recruited for animation voiceovers.
Bob Hastings, who plays Col. Binghamton's second in command, went on to Hanna-Barbera's "Clue Club" and then became Commissioner Gordon in "Batman: The Animated Series." Flynn went on to work in "The Rescuers" before his untimely death. And Carl Ballantine, who plays Gruber, pops up in "Garfield & Friends," "Freakazoid!" and "Spider-Man."
While "McHale's Navy" is plenty of old-time fun, its plots get tired quick. A full season of the show is just a little too repetitive for a weekend marathon. Really, unless you're a die-hard fan, just get one season and you've pretty much got all the "McHale's Navy" you will ever need.