David Hasselhoff is 60.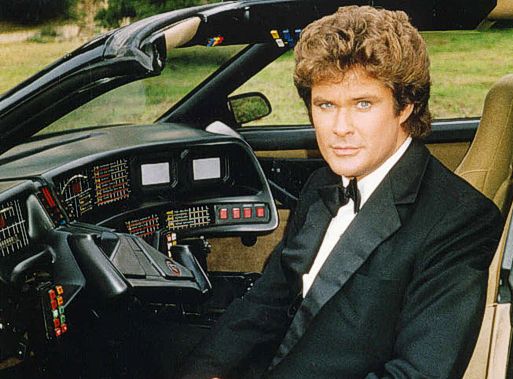 You heard it right: The Hoff, megawatt star of "Knight Rider" and "Baywatch," has entered his sixth decade as of June 17, 2012.
Maybe — somehow — you've never heard of the newly minted hexagenarian. Let Comics on the Brain run through some additional highlights: He was a judge for "America's Got Talent." He's been tapped for hilarious cameos in "The SpongeBob Squarepants Movie," "Dodgeball" or "A Dirty Shame."
He even struggled for a late-night snack in an infamous YouTube video.
And if you stay late to watch "Saturday Night Live," you may well know that "Germans love David Hasselhoff."
It's that catchphrase that bewildered CotB … that is until the miracle of the Internet showed me exactly why Germans love David Hosselhoff … because he sings to them. Americans are generally astonished that their favorite hairy-chested action star can sing, but indeed he does.
Back in 1989, Hasselhoff released an allegedly legitimate rock song and video, complete with clips from "Knight Rider" called "Looking for Freedom."
Destiny had a different path for the song though. It was originally sort of a tribute to his "Knight Rider" car, KITT smashing through a bunch of things and jumping over obstacles.
Instead, its release was miraculously timed and coincided with the fall of the Berlin wall.
The bizarre syncronicity transmorgified the song into a anthem for the end of communism, staying at the No. 1 spot in West Germany for eight weeks. Go ahead, watch it, and you'll still wonder why the Germans love David Hasselhoff, but somehow they do.
But Hasselhoff's singing success didn't stop there.
He continued churning out albums since then. In sync with American views of Hasselhoff, it's clear he's got a sense of humor, too. His covers of "Secret Agent Man" and "Hooked on a Feeling," are both hilarious, and they're meant to be so to.
But a few years ago, his creme de la creme of music videos showed up, in "Jump in My Car" he once again pulls KITT along for a ride as he salaciously urges a young woman to go for a ride.
The must-see video, once again, is pretty funny, but its humor falls flat because it's upstaged by the awfulness of the song itself, which even has to the back-and-forth musical-style singing between the Hoff and his Hoffettes.
"Jump in My Car" is so bad that it was celebrated in a strange campaign to "Get Hasselhoff to No. 1" in Great Britain. The organizer urged UK song-buyers to massively download the Hasselhoff masterpiece on Oct. 8, 2006.
Their efforts really paid off too, as it hit No. 3.
The song made a bit of a splash here too, as the Hoff performed it "live" on "America's Got Talent" to his clearly horrified co-judges Piers Morgan and Brandy. I put "live" in quotes because it's painfully obvious that he's lip syncing right up to the end.
And that's why we wish Michael Knight a slightly belated "Happy Birthday" followed by a drum-circle chanting of "Hail to the Hoff!" as we issue a "thank you" for all the turbo-boosted songs you have yet to unleash upon the world.