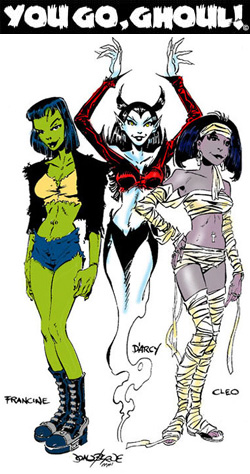 Here's something that's kind of interesting:
Way back in 2007, I was writing for a now-defunct blog called "Pop Quiz, Hotshot!" That blog covered pop culture in general and allowed its writers to look into whatever obscure corners of the Pop Culture landscape we deemed interesting.
Naturaly, CotB was interested in comic books. One day I was pointed down an interesting path. Here's what I discovered, and I'm quoting from my rescued writings:
Comic-book artist and writer John Byrne is a legend in the industry, having key roles in the revival of "The Uncanny X-Men" and Superman.

More recently, he's worked on the likes of "Blood of the Demon" and "Doom Patrol," and all those sinister sounding comic books must have gotten him thinking about monsters quite a bit, because according to his Web site, Byrne took a week off his regular drawing and writing efforts to put together a cute new web comic called "You Go, Ghoul."

The comic features the Charlie's Angels-style exploits of three young monsters (or at least young-looking monsters) as they work as private eyes in a world full of the supernatural oddities.

A bit high-concept, sure, but so was "Tim Burton's The Nightmare Before Christmas," and look at the marketing machine that became.
With hideous "Nightmare"-Bratz doll fusion in mind, PQH! thinks the concept is just cute enough — and faux-adult enough — that it could send pre-teen girls into a merchandising tizzy.

It's not going to happen over night, a concept like this needs to gain some steam, but let it stew for a few years, see what happens and remember that PQH! talked about it first.


Back in the present, I was amazed this past Christmas, when one of the must-have items for pre-Tween girls was a fancy line of Bratz-inspired dolls called "Monster High."
These girls are monstrous in nature — there's Frankie Stien, Draculaura, Clawdeen Wolf and Lagoona Blue — and harken back to the Universal Monsters of years gone by — Frankenstein, Dracula, Wolf Man and the Creature from the Black Lagoon.
Partially thanks to those classic icons, the "Monster High" franchise is huge. You can buy Monster High video games, dolls, Halloween costumes, books, make-up and party supplies. Word is, there's even a movie musical in the works.
Looking at the two properties, "You Go, Ghoul" and "Monster High," there's plenty of similarities. But it's also not a far stretch to see that "Monster High" is also popular thanks to the likes of Twilight and other neo-horror works that have surfaced lately.
Could John Byrne sue?
If were him, I wouldn't. Instead, I'd offer to re-brand the work he had done as a" Monster High" digital comic, or better yet a mini-comic to be dropped in every "Monster High" package they ship.
Just like Lego's success with its "Bioncle" comics, Byrne could be in control of one the comic industry's most-read properties.