I review comics on Twitter at twitter.com/johnsimcoe. Here are the February and March 2012 reviews!
Less than Heroes (2004): David Yurkovich creates a superhero world that
would happily host a visit from the Vertigo-era Doom Patrol.
Marc Spector Moon Knight No. 43 (1992): It's amazing to see how bad the
art is in this Infinity War crossover. Even the cover is awful.
The Savage Sword of Conan No. 89 (1983): Conan goes hunting for slave traders as Alfredo Alcala offers some beautiful art.

Wonder Woman No. 129 (1998): John Byrne really did wonders with this
title, offering a great plot featuring Egg Fu. Wish his run was longer.

Superboy No. 1 (2011): The kid is born again to the same mystery, but it was presented quite well. Lobdell handles it well.

Battletech No. 3 (1987): Hardly a giant robot to be seen, but the art
was nice for an '80s indy. But why aren't there more giant robots?
Battletech No. 5 (1988): For the first 13 pages, this comic shows the
events of a meeting. Wow. No wonder Blackthorne is no longer with us.
BattleTech Annual No. 1 (1989): The action is hard to follow in these.
Color would have helped the fairly good art on this robot comic.
Flash Gordon No. 2 (2008): Ardden's take just doesn't work without Al Williamson-style artist. What's up with Ming's arms?
The Family Dynamic No. 2 (of 3): "Battle of the Planets"-style costume
designs featured in a story of secret identities. Fun but not great.
Family Dynamic No. 3 (2008): Final issue, but clearly meant to be longer. What happened? Decent stuff from @jtorrescomics
Fables No. 102 (2011): Launches a fairy tale superteam. Fables mocking superheroes? What does writer think of #Grimm? Or #OnceUponATime?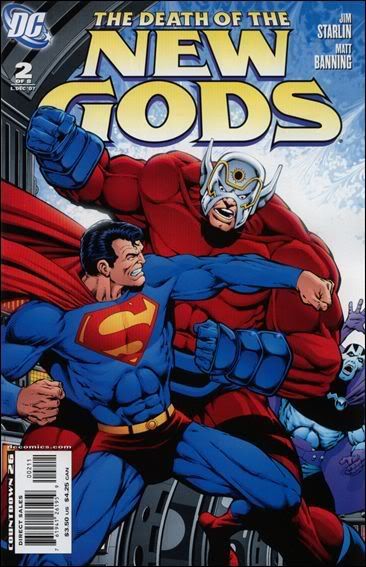 Death of the New Gods No. 1 (2007): While the story was a bit 'meh,' I was blown away at Jim Starlin's amazing pencils.
Death of the New Gods No. 2 (2007): The plot finally gets moving and
then there's a lampshade-hanging hero brawl. Good enough to read No. 3.
Death of the New Gods No. 3 (2008): I like that Superman, and only
Superman, is teaming up with the New Gods. A good choice, Starlin.
Death of the New Gods No. 4 (2008): Dull issue, but I think I can ID the
perp in this cosmic murder mystery. If it's him, this story sucks.
Death of the New Gods No. 5 (2008): Some interesting philosophy getting thrown around here … and #Superman too. (That's my zinger, folks!)
Death of the New Gods No. 6 (2008): It's rare for me to actually like Orion, but in this one, he had some kahonies for sure!
Death of the New Gods No. 7 (2008): The killer is revealed … and it's
someone who they chased earlier in the series. Not a surprise then.
Death of the New Gods No. 8(2008): Final issue makes this a good, but
not great series. Was oddly insular. Had decent crossover potential.
And Then One Day Sketchbook No. 5 (2005): This is an art journal for
with stories. The problem is they are really boring stories.
JAM! TALES FROM THE ROLLER DERBY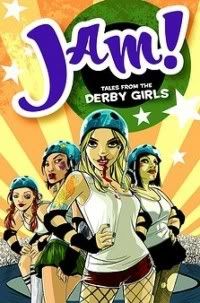 Special! Here's a multi-part review of stories from the "Jam! Tales from the Roller Derby" trade paperback. Each story got its own post!

Flat Track Derby: Rules! (2010): A quickie rules guide, but I'm still
confused, even after seeing derby live. Basics: Skate fast.
Skatertots (2010): The trials and tribulations of learning to skate.
Plus a look at secret lives of derby girls. Love page 4's diagram.
Flat Track U (2010): A great story and classy art of a girl finding her place in roller derby. Best story of the bunch.
Galzilla (2010): I have to admit this one left me incredibly confused.
But dang, this artist just rocks. A less eclectic story, please!
Reno's Street Vibrations (2010): Energetic art paired with a
slice-of-life story of the derby. Funny stuff and I want those socks
too!
A Story of Derby Love (2010): Are they or aren't they? This answers the
question on every guys mind as they watch a derby. Best art!
Wait, I know what you're asking, "Where's the rest of the stories from 'Jam!'?" Well, I didn't get to them by the end of March. You'll have to just go and check my Twitter account for the rest.