I'm not as speedy of a reader as some of my friends and coworkers, but I do
get reading things every now and then. They often brag to me about finishing a novel in a couple of days (or
sometimes in just a couple of hours).

I'm nowhere that fast. In fact, it
can take me a good month or three to push my way through even one
regular-sized book.
Part of my problem is that I'm often reading four or five books at once.
Call me unfocused, but that's how I read.
It's that methodology that allowed me to finish three books within just a
few days of each other, and as it turned out, I liked all of them.
Here's just one simple one I made it through.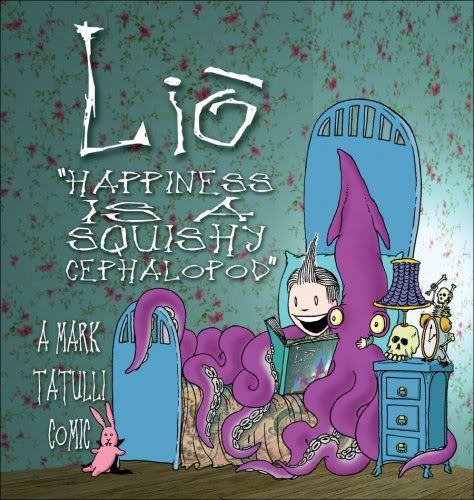 LIO: Happiness is a Squishy Cephalopod

By Mark Tatulli
$12.95/ Andrews McMeel Publishing
/ 128 pg / ISBN 978-0-7407-6849-1
Mark Tatulli first intrigued me with his delightful syndicated comic
strip called Heart of the City. In that comic, a somewhat spastic,
celebrity-obsessed girl named Heart tells adults what's what. Readers
naturally responded with "Awwww, so cute…"
But Lio is entirely different.
In fact, it comes across as a rather
sinister mix of the "Addams Family" and Calvin & Hobbes. Instead of a
pretend tiger as playmate, Lio has a full-grown squid that lives in his
bathtub.
Told almost entirely in pantomime, each comic strip in the 128-page book
features Lio in his seemingly eternal struggle to have fun.
That in
itself is not really too unique — no, it's his definition of 'fun' and
how it makes him far different the kids around him.
When they want lollipops, he wants a brain-on-a-stick. When they worry
about the monster under the bed, he's trying to figure out how to make
friends with it. If they're hoping to spend the afternoon playing
outside, he's trying to figure out how to seed the clouds and brew a
thunderstorm.
With that attitude, Lio works unflinchingly to make the world a more
horrible place. He builds deadly robots, he invites alien invaders in
the door and he most certainly hopes that one day a vampire will suck
his blood.
Indeed, it's a high mix of strangeness, but it sure is loads of fun —
our kind of fun.
If you're still not willing to believe me, check out the Lio comic strip feed, and after a week, you'll be dying to get "A Squishy Cephalopod" of your very own.