I'm not gonna pull your chain. I'm a big fan of the Coast Guard and the generations of stories about the men and women who kept watch of our shores. That's why I wrote and drew my "Redlighter" comic and am slowly working on its sequel.
To find out all the information I could about the Coast Guard and its related organizations, I've been reading a ton of "rescue hero" books, and this is a look at one of them.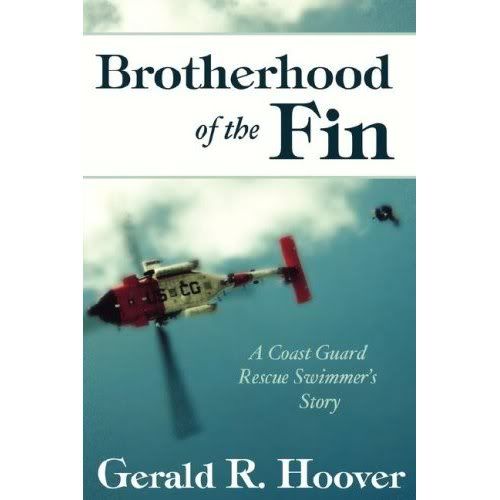 BROTHERHOOD OF THE FIN: A Coast Guard Rescue Swimmer's Story

By Gerald R. Hoover
$15.95 / WheatMark
/188 pg / ISBN 978-1-58736-744-1
You've probably seen them in action. Maybe you've even seen them in
fictional movies such as "The Guardian" or reality TV shows like "The
Deadliest Catch."
These are the guys who leap out of helicopters into
raging seas to help sinking boats, save drowning people and perform
emergency extractions. They are U.S. Coast Guard Rescue Swimmers, and,
quite frankly, they kick ass.
In "Brotherhood of the Fin," Coast Guardsman Gerald R. Hoover tells how
he was inspired by the sinking of the Marine Electric
in 1983 (and his own personal rescue experience) to join the Coast
Guard.
"Brotherhood" covers Hoover's fascinating career — from the rigorous
Rescue Swimmer training program to his efforts during Hurricane Katrina,
and of course, there's plenty of action in between, too.
Written in a matter-of-fact style, Hoover recounts a dozen or so rescues
he and his comrades participated in, and surprisingly, not all of them
are out in the open sea.
The most fascinating tales are actually his
stories of inland flood rescues. Twice he writes of flying in blackout
conditions when the only light on the horizon is provided from hundreds
of roof-bound people with flashlights as they signalfor their saviors.
Some readers will certainly be turned off by the fact that "Brotherhood"
is a self-published book — and it certainly could have been better
with a good polishing from an editor — but since its one of the few
books on the Coast Guard's program, it's a welcome addition.
"Brotherhood" won't win any literature awards, but its action scenes and
glimpse into the inner workings of the Rescue Swimmer program will
certainly draw you in, hook, line and sinker.