It should be no secret by now that I like hockey. But it's important to understand what part of hockey I like. I like the idea of the competition and the camaraderie between the players. The big-money, high-stakes marketing game of today isn't at all apealling to me. I like the sport — not the teams, not the package.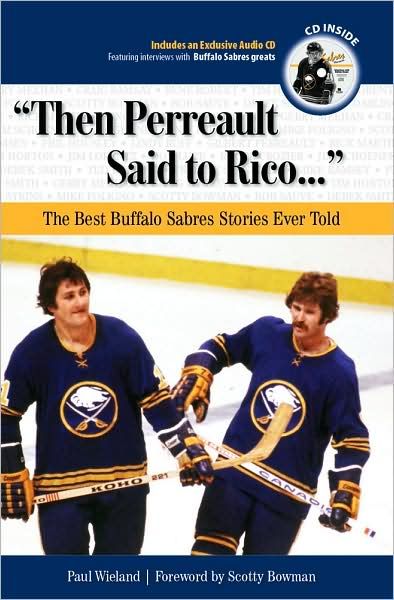 With that in mind, I will happily watch some pee-wees, a high school team or college squad play rather than spend $80 for a ticket and some bad nachos.
I want the stories of the game, not the highlight reel.
This all brings me to a great book I picked up. Although it features a pro squad, it's got the right feel to it.
THEN PERREAULT SAID TO RICO …: The Best Buffalo Sabres Stories Ever Told

By Paul Wieland
$22.95 / Triumph Books / 208 pg / ISBN 978-1-60078-095-0
One of the greatest sports movies of all time has got to be "Slapshot,"
a 1970s comedy featuring Paul Newman as a hockey player in a
rough-and-tumble league where anything goes.
It's so good that you have
to wonder just how accurate it really is.
Well, after reading Paul Wieland's "Then Perreault Said to Rico," I can
pretty much say that "Slapshot" is secretly a documentary with a plot
thrown in for good measure.
Wieland, who served as the Buffalo Sabres' public relations man for a
few decades, recounts the birth of the Sabres through the mid-1980s with
his new book, and "Then Perreault" is a joyous exploration of the
hockey's most intriguing time period.
What makes it so intriuging?
Well, during Wieland's tenure the National
Hockey League just didn't have the fine veneer it has obtained in recent
years. Fights were common, booze was a must and teeth were entirely
optional.
As a PR man, Wieland was at a perfect vantage point to watch the Sabres
start meekly, grow into a powerhouse and tumble back down again. He
even got into the act, since for years he also served the team as its
practice goalie.
Culled together from his own notes and memories as well as recent player
interviews, "Then Perreault" isn't just a snippets on the life of
Buffalo Sabres, it's a story of how teams work together and what they go
through when they're down by a point with only a few seconds left on
the clock.