It wasn't the name of the author, Margaret Wise Brown, that made me pull open "The Little Island." It was the art — the Caldecott Medal winning art by Leonard Weisgard.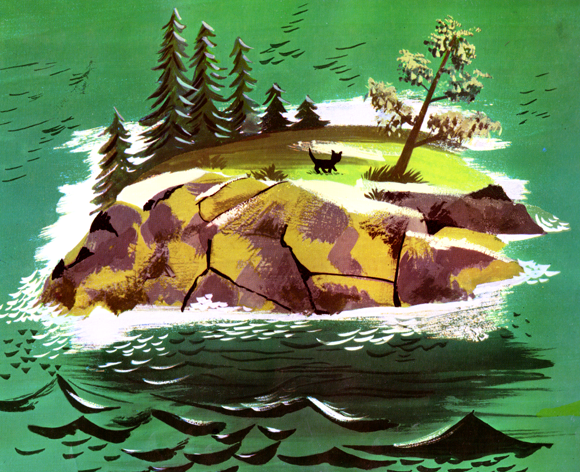 Almost immediately, there was something familiar about the image he created. To me, it looked as if "The Little Island" art was done by someone who worked as a background painter for animation or even someone who did backdrops for theater. The art instantly pulled you into the scene, yet at the same time it was pleasantly static and picturesque. That "static" element is what reminded me of animation backgrounds — it was as if each page was waiting for something else to land upon it and bring movement and action to it.
And by saying all that, I don't mean to pull down the glory of the art of "The Little Island." It was this very facet of its being that makes it so interesting. It's as if you're getting to see this world before action is thrust upon it.
But instead of action, we simply experience the island's life over the course of a year or so. It's visited by boats, birds, crabs and cats, but not a one of them seems to bother this little island.
Margaret Wise Brown, best known for "Goodnight, Moon," captures images with her words just as Weisgard does with his paint. A favorite describes winter's snow as "a great secret in the night — cold and still."
A wonderful and haunting image worthy of a book that brought home the Caldecott in 1947.
ISBN: 0-385-74640-7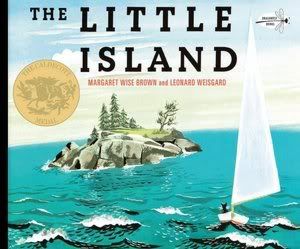 PUBLISHER: Doubleday
YEAR: 1946
AUTHOR: Margaret Wise Brown
ARTIST: Leonard Weisgard
TOUGHEST WORDS: Kingfisher, seventeen, butterflies
DENSITY OF TEXT: Extremely light
COMIC BOOK-NESS: Not a bit, but its art style reminded me of animation backgrounds
WOULD IT BE A GOOD MOVIE? No, but then again it also has a "nature documentary" feel to it.
THEMES: Life, seasons, storms, calm
WEBSITE: Margaret Wise Brown and Leonard Weisgard