With a bit of reluctance, I offer you, the viewing public (and my friends and family who read this) a wish list of "stuff" I want. Some of it is "Stuff" I need (mainly in the art wishlist), but most of it is just things I think are just plain awesome.
I know that some online bloggers and comic strip creators post these, so I will do the same in hopes that I might get a smidge of support for my online efforts.
If you do happen to donate or purchase something for me, that is fantastic, and I thoroughly appreciate your generosity. If you don't that's OK too. (Really, I mean that — just seeing the "hit counter" go up on some of my posts thrills me.)
Either way, I appreciate the fact that you stop buy and look around from time to time.
And to my family, who always wonders what to get me, here you go.
ART SUPPLIES
You can buy most of this through a Dick Blick wish list.
COMPUTER PEN: Wacom Inkling — Not on the wishlist, but man, oh, man this looks great!
PAPER: Canson Comic Page Boards — For drawing comics
PAPER: Canson Comic Strip Boards — For drawing comic strips!
PAPER: Strathmore Artist Trading Cards — To make a few extra bucks at conventions!
LOTS MORE: As seen on the wish list!
OLD STUFF
PULP MAGAZINES: I have a few pulp magazines, but not a ton. I'd love a few more old ones. Any subject — from detectives to westerns to sci-fi is A-OK with me. Heck, you can even buy me a few of the reprint books on characters such as the Shadow or the Spider!
SOMETHING MADE OUT OF GUTTA-PERCHA: This is a material made out of a "pre-plastic" from the 1800s and early 1900s. It was most used to coat telegraph wires, but it was also poured into molds to create very intricate household items — such as trinket boxes or brooches. I'd love to own a few pieces of anything made out of Gutta-Percha.
BADGES: I kind of think badges are pretty cool. Sheriff's badges, military badges, club membership badges — any ole' stinkin' badge you're interested in getting me.
ORIGINAL COMIC STRIP ART: I'm not picky. Just search ebay for "original comic strip art" and buy some of it, just so long as it was published. I just think it's really interesting and I'm not at all picky about what it is.
MY STUFF, FOR ME!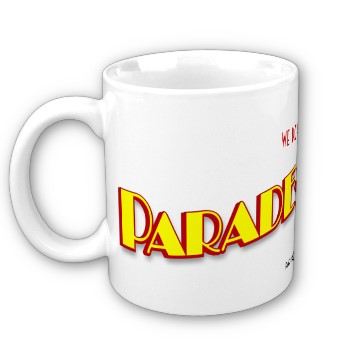 (I don't have enough money — usually — to order my own designs from Zazzle. Here are some of my favorites that I wished I owned!)
MOVIES & TV/DVD ONLY
MUPPETS: Muppet Show — Season 2
CARTOON: "StarCom" — Any season or variation. This is a 1980s cartoon show based on a toyline. It was really good.
CHRONICLES OF NARNIA: Prince Caspian
CHRONICLES OF NARNIA: Voyage of the Dawn Treader
MUSIC
MY MUSIC BIN: Check out My Music Bin at YouTube. Order me an album off that list.
DANCE: "Electric Cabaret" by Infernal (a band out of Scandanavia)
COMEDY: "Dare to Be Stupid" by Weird Al Yankovic
ALTERNATIVE: Any album by Stereolab.

COUNTRY: Any album by Dave Stamey
COUNTRY: Any album by Hoyt Axton

GIFT CARDS
Michael's — Any amount
A.C. Moore — Any amount
Hobby Lobby — Any amount
Staples — Any amount
GoDaddy.com — Any amount
Zazzle.com — Any amount

TOYS & OTHER STUFF
CLOTHES
HAT: Armagh GAA baseball hat Just a cool looking hat.(O'Neill's)
JERSEY (Hurling): London Longsleeved GAA size XXL Not a favorite team or anything, just a cool shirt. (O'Neill's)
JERSEY (Hockey): Toronto Maple Leafs
JERSEY (Hockey): Winnipeg Jets (New style)
SHIRT: Armagh GAA poloshirt (O'Neill's)

WATCH: Simcoe Coat of Arms,
silver preferred, with a XXL-length wristband. If you can find a better watch with the same Coat of
Arms, I'd be even more happy since this is probably a not-good watch.
Alternatively, you can buy a JPG of the Simcoe coat of arms and place it
on an item of your preference, such as a mug or t-shirt.
BOOKS
Note: Used books are just fine with me!

SUBSCRIPTIONS
REVIEW COPIES
Send me your comics, novels or music, and I'll review them here and on my twitter account! Free stuff — always a great gift!
HOW DO YOU SEND STUFF?
Ahh, good question!
Order art supplies off this wish list.
Order pretty much everything else (that is books, music, movies and a few toys) off this Amazon wish list.
Something else not on a wish list? Contact me and we'll figure it out!