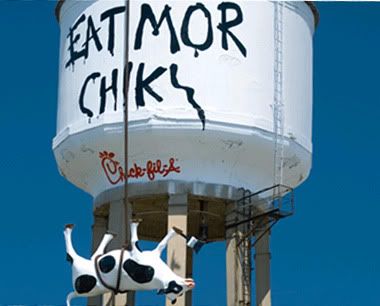 After years of campaigning by those Chick-Fil-A spokescows, another beefy bovine has taken the "Eat Mor Chikin" campaign to heart … by eating chicken.
A baby chicken in fact.
Watch the slightly disturbing video here.
In fact, such behavior isn't totally unheard of either. In this news story, cows were nicked as the culprits to dozens of chicken disappearances!
The herbivore-gone-carnivore case is so disturbing that the wonderful Tetrapod Zoology blog (now housed by Scientific American) delved into the topic here. The blogger there says that such activity is usually done to stock up on much-needed nutrients.
Me? I'll just keep going to for GNC my dietary supplements, thank you very much.