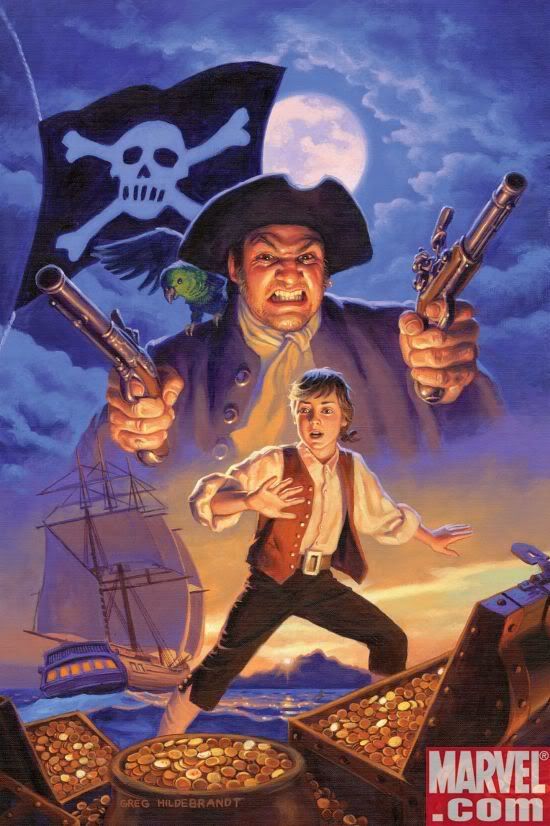 Pirates make great cinema. From all the way back to the truly awesome Errol Flynn vehicle "Captain Blood" to the "Pirates of the Caribbean."

But film isn't the only visual medium to tackle the treasure trove of good stories available from Pirate lore. Since the earliest years of the comic industry, writers and artists have been wisely giving us land lubbers a health dose of buccaneer adventures.

In the 1950s, publisher EC served up "Piracy" a seven-issue series. Each issue featuring two or three stories of pirates doing what they do best — robbing people, sinking boats, getting drunk and fending off sharks and scurvy.

In the 1960s, the Fantastic Four's rocky-skinned Thing had a brief career posing as "Blackbeard the Pirate," complete with a long shaggy beard.

By the 1970s, a more far-flung pirate popped up as readers discovered that Cyclops, the leader of the X-Men, had the Jolly Roger in his blood: It turned out that his father was an interstellar pirate in a galaxy far-far away.


And it goes without saying that aquatic heroes Aquaman and the Sub-Mariner were regularly swabbing the deck with pirates too.

More recently, Marvel Comics is bringing out a new comic that will adapt the world's most famous pirate story, "Treasure Island," into comic-book form.
The story has been adapted a few times before, but this one promises to be among the best. Written by comic veteran Roy Thomas and illustrated by Mario Gully, with a great cover by Greg Hildebrandt, you find that on Amazon or at your local bookstore — if any of them are still around.
Of course I would be remiss in my duties as a horrible self-promoter if I didn't point you to my own tale of comic-book piracy. In "Redlighter: Light it Up," the heroic fox of the piece has to defend his town from a squad of vile pirates.


The group is lead by its possum captain, Dead-Eye Taylor. It will make you wonder about the end … is he just playing possum?
If I've intrigued about this possum pirate, then please, consider ordering a copy or two of the comic!
And …. HAPPY TALK LIKE A PIRATE DAY!
Be sure to click on the "Pirates" link below for more piratey goodness
from Comics on the Brain!