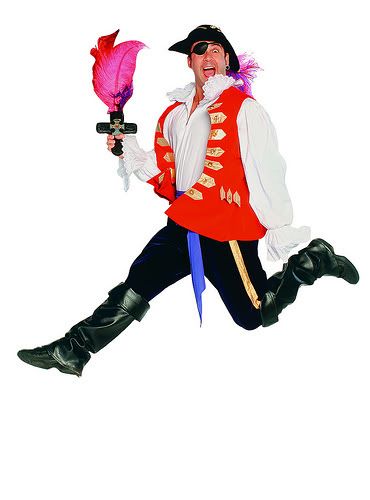 Captain Feathersword, the lovable pirate sidekick from the children's TV show "The Wiggles," says key scenes from "Pirates of the Carribbbean: On Stranger Tides" have been left out.
Coincidentally, all those scenes featured him.
"Arrr, after watching the bootleg DVD last night, I couldn't believe me one good eye, but they cut all me scenes," he said.
"I thought my relationship with Disney was stronger. Aye, I was mightly disappointed."
Feathersword, a merry pirate named for his choice of weapon, said he spent two weeks on the set of the final film.
"Many a' hour we spent singin' and dancin,'" Feathersword explained.
"Penelope Cruz is a fine dancer. Same with me boy, Johnny."
Feathersword described a scene that was to be placed shortly after Johnny Depp's character asks Cruz' character to marry him: "It's during a mighty sea battle, and right after th' romantic moment, I swing in from a rope and lead the two in a happy dance and song 'bout how mommies and daddies are friends. Arr, a good li'l diddy it was."
He said another scene sliced out of the movie shows Feathersword rescuing Johnny Depp's character from being karate chopped by Jackie Chan, who also was apparently cut from the fourth "Pirates" film.
"I stopped 'im by givin' him a ticklin' with me sword. It was a great moment where I really got to stretch my dramatic chops."
A third cut scene featured him doing battle with the squid-faced character played by Bill Nighy, only to be rescued by Henry the Octopus, a "Wiggles" co-star, who was making a surprise cameo appearance.
Calls to Gore Verbinski and Rob Marshall, directors of the "Pirates of the Carribbean" films, were unreturned.
An intern who answered the phone at Disney's production study said that Feathersword "was obviously delusional if he ever believed he and Jackie Chan were on the set."
Feathersword said he hopes all the cut scenes will be restored for the film's expanded DVD release.


Oh, yeah … THREE DAYS UNTIL "TALK LIKE A PIRATE DAY!"
(Monday, September 19, 2011!)