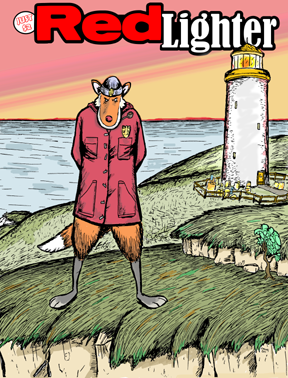 It's been a very quiet year for me here at the Comics on the Brain blog. I've been barely posting once a month, much less twice a week as I've done in my busiest times.

Well, now I'm ready to tell you why.
Over the last year, I've been working on my first published comic.
(I've also been working on some comic strips and mini comics too. But I'll get to those in another post, but I'm just as excited about them too.)
My new comic is called 'Redlighter,' and it's about a lighthouse keeper that does more than turn a giant bulb on every day.
Instead, he's part of a larger organization called the U.S. Light House and Rescue Corps.
Their job is to make the sea lanes safe by whatever means possible. And when your world is overrun with pirates, sea serpents, magic and levithans, you need all the help you can get.
In Hollywood shorthand call it "Hellboy meets the Coast Guard."
It stars Capt. Denny Amberjack, a retired Navy fox. Yep, I said fox, not man, because that's what he is — an anthropomorphic fox.
In his first adventure, titled "Light It Up," he comes up against pirates bent on looting Port Carpenter, where he's currently assigned.
The 24-page comic, which includes few supplemental pages, debuts at SPX, the convention in Maryland for small press creators. Redlighter is a "small press" book in more than one way — It's only 5-inches wide and 7-inches-tall and the print run is only 250 copies.
Such a small-scale debut doesn't really bother me either. My intent was to always make it that size, and I'll talk more about that decision in a later post.
So please, come find me at SPX and ask for a copy. I want your feedback. And let me tell you, 'Redlighter' is just a start of a revolution.
There will be more. Much more.