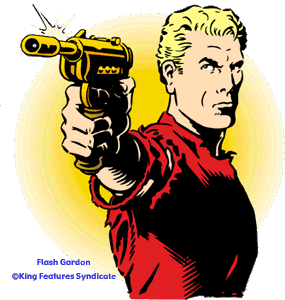 I mention in this long-ago post about how I desperately missed one of my toys from childhood: a simple toy laser pistol.
Man, I loved that gun. It was perfect fuel for the imagination. I spent hours pretending I was Han Solo blasting away stormtroopers and bounty hunters. When I got tired of being Han, I was a simple Army survivalist trying to find my way out of a monster filled jungle. I could also use it to be a Ghostbuster, Flash Gordon, Buck Rogers or someone of my own imagination.
With it, I had deadly aim. I could totally unload on the enemy — filling him full of laser burns, bullets and rockets.
It was a great toy, and I remember the day it's little "laser" light stopped working. It was even sadder when no matter what 9-volt battery I plugged into it, the sound wouldn't work either.
That was the day the stormtroopers won.
Since then, I have looked high and low for a replacement. In my teen-age years, I loved Lazer Tag, which I describe here. But it wasn't the same. It didn't have the same "zing!" of my old blaster.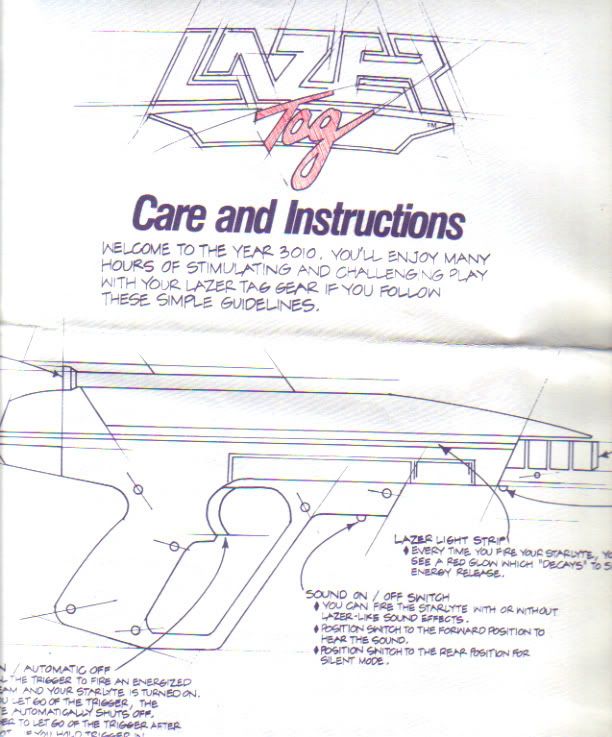 As I got older, I searched more. Ebay was no help. Searching "raygun, blaster, pistol" and "laser" offered too many of the banshee-scream emitting toy guns. Instead of that nice "zing!" I was looking for, I found horrid sounds. There was the "Skreeeeeeeee-booom!" sound, which always assumed I hit every shot I fired. There was the "beedle-beedle-beedle!" sound, which was far more alarm clock than raygun. A third option was a high-pitched "dew! dew! dew!"
All were annoying. None were even close to the raygun that fueled so many of my childhood adventures.
Then — just yesterday — I turned the corner of an aisle at Target and saw a toy gun.
It looked quite nice. It called itself the Circo Light and Sound Blaster. "Circo?" I thought. "That's Target's generic toyline. This will probably be crap."
So I pulled the trigger. The lights flashed. And a beautiful sound came fourth: "ZING!"
I was still concerned. Surely this would be a shoddy product. I took a firm hold of it. Looked it over … and immediately went to the register to buy it.
In the car, it was unwrapped in seconds and firing away at the sudden invasion of robots, monster and aliens that swept through my hometown.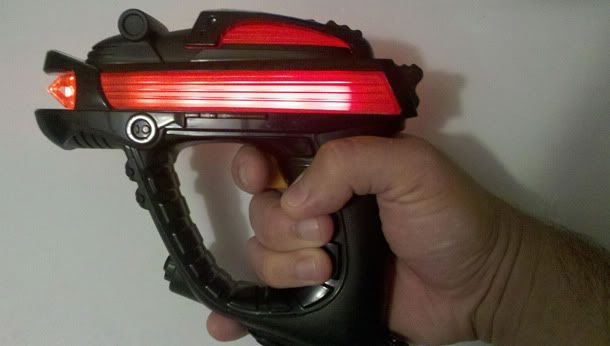 It's a great toy. I can't help but beam about it. There's so much great about it for me … for kids.
Here's a full-on product review:
CIRCO LIGHT AND SOUND BLASTER

Circo, Target's generic toy line, usually offers iffy merchandise at best, but the "Light and Sound Blaster" is something different. Made of dense and exceptionally hard plastic, you can tell this toy raygun will take the beating that any child can give it.
It's a simple toy, really. It's a toy gun, available in black or blue, that lights up along the side when you pull the orange trigger. The light strobes to the end and finishes at the end of the laser barrel in a diamond-shaped nub.
The sound is also important to note. While it is a "Zing!" laser sound, it's not too loud. In fact, the volume is perfect. Noticeable close by, but not intrusive just a few feet away.
It also isn't the annoying triad of laser sounds programmed into most toy laser guns you will find.
The toy is intricately sculpted to present itself as a sci-fi gun. In fact, it looks a bit like an old 1980s "Lazer Tag" gun. Aside from the futuristic look, it sports a variety of immobile handles and dials that let kids pretend they can reload the device, increase the laser intensity or even switch it to another type of fictional ammo.
In particular, the gun-handle is nice (even if it's small for adult hands) because the sculpter made it into a grippable "flat paint" style where the rest of the toy is glossy. It's a nice design feature, and sure to keep it from slipping out of a water-balloon bombed hand.
As a parent, I especially appreciate this toy. It only takes batteries. There are no darts to buy. I'm not going to be shot in the face with a little yellow pellet. I won't be vacuuming up disks for years to come. It won't leak water if someone sets it down and forgets it.
And honestly this is a toy that won't easily be forgotten. It is pure imagination driver. A kid can be who he or she wants with this — Flash Gordon, a Transformer or Padme Amidala. A kid can do anything with it — decimate swarms of robots, shoot out communication lines, face-off against an arch-nemesis or rescue the kidnapped chancellor.
It's packaged simply and without fanfare: It's mounted on a piece of cardboard with twist-ties. But that packaging offers its only negative: A bright-white warning sticker was attached to the top of the gun, and it doesn't peel off — it just shreds. We ended up coloring ours over with a permanent marker to hide the garish sticker.
For boys, for girls not afraid to be imaginative: This is the toy you want to buy. Unfortunately, you will have to go directly to Target and get it since it is unwisely not offered at Target.com.
The price, by the way, is unbeatable: $7.99
If this identical item were a "Star Wars" gun, it would be twice that amount, just so it could carry a logo.
Instead, this has no branding to it, and from a parent's perspective that's 100% better for any kid's imagination.


(By the way, if you dig laser pistols, alien monsters and sci-fi, especially pulp era sci-fi, be sure to check out my photobucket album of pulp magazine covers and my articles here about pulp magazines.)