In the last few months, I've been diving into the Arthurian mythos.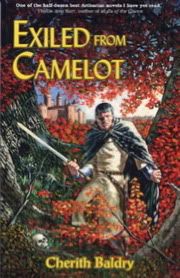 This is a new endeavor for me, because I always saw the story of King Arthur rather uninteresting. There's the big love triangle between Arthur, Guinevere and Lancelot. There's the struggle with Morgan Le Fey and Mordred.
But there's nothing else, right?
Well, I thought that too until I stumbled on a sale at the Paizo store. For just $1 each, I could buy up a collection of new-fangled Arthurian tales.
I started out with Cherith Baldry's "Exiled from Camelot," which focuses on Sir Kay. A book that focuses on the Camelot's castle manager? Yep, and it turned out to be one of the best novels I've read in a long time.
From there, I moved on to "To the Chapel Perilous" by Naomi Mitchison, a quirky tale that shows an Arthurian world besieged by the British press.
Both these were supplemented by "The Arthurian Companion" by Phyllis Ann Karr, an encyclopedia on all things Camelot.
Here's what I had to say about each of the books:
Exiled from Camelot: This is a wonderfully engaging book written with modern language and
modern flair. Beyond being briskly written, its particularly engaging
because it skips using Arthur, Lancelot and Gawain as the primary
characters and focuses on Sir Kay. While Kay is often portrayed as a
crumugen on in most novels, here you see ~why~ he acts that way. He's
got the kind of job where he's always busy and not just waiting for
trouble to pop-up. Unfortunately for him, trouble that's specifically
directed at him ~does~ pop up and he's pulled out of Camelot to deal
with.

Cherith Baldry's story is full of interesting twists that kept me reading at full pace. Hopefully you will too.
To the Chapel Perilous: This book takes a different spin on the key Arthurian legend — the hunt for the Holy Grail — and offers a point of view from the newspaper people who are reporting on the events, not the knights doing the hunt. And while it's an interesting premise, I had a lot of trouble reading the first 150 pages or so of this book — the writing style was disjointed and odd. I'm lucky that I understand the terms and concepts used by the Camelot-era journalists since I'm a modern-day journalist. The question is can a general interest reader get it?
Still, after those 150 pages that seem relatively plotless, things finally pick up when the Guinevere-Lancelot affair breaks. After that, the novel really delivers some exciting stuff.
The Arthurian Companion: I'm not an expert on things Camelot. I barely know anything about it, in fact. As I was reading two of Green Knight Publishing's novels, I found myself checking this tome again and again for quick and informative descriptions of places, people and artifacts that were being name-dropped with little explanation. Definitely a must buy, and at this price, it's really worth the minimal investment.
What's great is that I have about five more books sitting on my shelf from the Paizo sale. I can't wait to get to them.