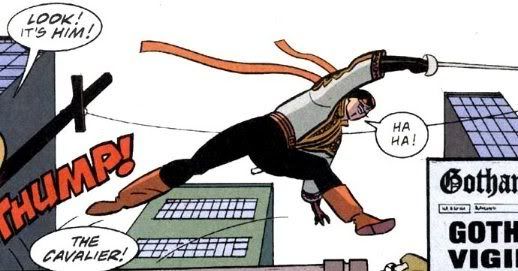 In comics, it's pretty common to run into heroes who act an awful lot like villains. For some, they just use less-than-honorable tactics or have slippery morals.
Some characters are sold to us as heroes, but when you look at them close up, they are actually brutal, cold-blooded villains cloaked in "good guy" marketing by the comic-book company.
Its also amusing to see stories where villains actually do good deeds,
but they do their best to cover it up. They have a reputation to
protect, after all.
There are still other heroes that have turned their lives around and become good guys. These characters — such as Marvel's Hawkeye or White Queen and DC's Catman — often have a lot to prove to their peers.
It's characters like them that I find particularly interesting, and I always keep an eye out for others villains who could switch sides.
Sometimes, I want to see the switch because I see the potential in the character as a hero. Others, many others in fact, I think LOOK like they're designed to be a hero, but they were just written up as a villain.
Take DC's Batman foe The Cavalier, above. He looks like a wild, fun-loving swashbuckler. Somehow he's been a bad guy all this time. The character has been redesigned a few times. His first uniform made him look like one of the Three Musketeers. Later on, he adopted a more roguish appearance, but it's the kind of look that makes him seem like he's always having a blast.
Marvel has a character, Piledriver, who is a member of the supervillain team called the Wrecking Crew. He's never showed an ounce of compassion in his life, but that costume is a perfect "good guy" costume if I ever saw one. Maybe he needs to get replaced.

In my "Relocating the Marvel Universe" series of entries, I suggested that Smuggler would make a great Spider-Man-like hero. He's got the look, the uniqueness to stand out as a solo star. Marvel ought to look closer at him the next time they are "recruiting" ideas for a solo book. He's an open template with a minimal criminal past. and a minimal character past as well. In fact, I kind of wonder if he was a redesign of Omega the Unknown, given the symbol on his uniform (which could easily be switched to an Omega symbol).
Back in the DC Universe, writers have toyed with the idea of making Major Disaster a hero. He was a member of the Justice League for a short time, but he most recently showed up as a Black Lantern. His first costume is interesting, and I can almost imagine him shaking hands with Superman. He's probably been a villain for too long though, as he's already appeared in dozens of comics stories by now. That may mean he's just too irredeemable.
But there's one character I really see as a hero, yet he is constantly portrayed as a slobbering villain. He is the Crusader, a Marvel Comics character who has donned chainmail armor, a white cross emblem and carries a sword and shield.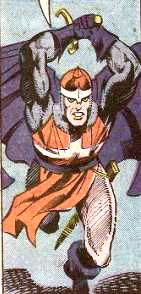 He is typically presented as a religious fanatic who wants to destroy the pagans he sees, and will stop at nothing to do it. Somehow, he's written so that he blindly ignores the other villains that he hangs out with and targets people like Thor, Wolverine, the Black Knight or Luke Cage.
While I can see his reasoning for attacking Thor (he claimes to be a god) and maybe even Wolverine (likely a murderer), it's all the other stuff that makes no sense. Luke Cage? The Black Knight? And hanging out with the Hood?
The Crusader, in case you didn't know, is a superbeing powered by his faith in his deity. The stronger his faith is, the more intense his power level is. When his faith begins to breakdown, his powers (super strength, invulnerability, unbreakable weapons and armor) begins to wane.
Like many Christians do, it's not to unrealistic to see him as someone who has lost his way, and only needs an epiphany-like experience to set him on the path of the right again. In fact, that has been his story in practically every appearance except that we only see his slide into doubt. We don't see his faith grow and flourish.
Why not catch him on the upswing. Reverse his typical story. Show him grow in power and confidence while he wrestles with all the issues a man of faith would have in a universe full of super-powered beings, without going over the edge.
If that happens, I see oodles of potential in him. First, he won't ever be a "nice" guy. He's judgmental. He's prone to rashness. Above all, his service to God is his mission. If anyone gets in his way, he shoves them aside. And with all that drive built into him writers could easily load up the hero version of Crusader with oodles of conflict. How can he work with "these people?" Why can't they see what's right? Why can't they see he's right because he has a connection to a higher power? In his mind, everything everyone else does is wrong.
Can his faith pull him through challenges against living gods, aliens and weapons of instant destruction that would plunge even the best Christian into doubt?
And more importantly, can he grow into a better person after overcoming all those challenges without looking like a hateful bigot.
That, my friends, would make one heck of a story.