The Grim Ghost, Wulf and (i think) The Phoenix caught my attention on the stands today. When I first saw the Atlas -Seaboard titles were being relaunched, I silently promised myself to try out the line, so I picked "The Grim Ghost No. 1" to begin my reviews.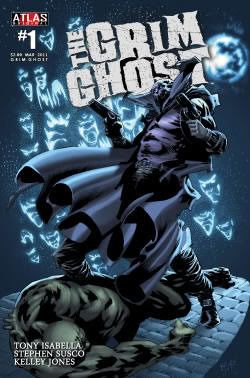 Here's my breakdown:
Art: Good enough, but not great. The story takes place in a purgatory world where backgrounds are apparently non-existent. Kelley Jones, known for his work in Deadman and Batman books is the artist. To me, it looks very different from most Kelley Jones work. Jones' inker isn't his typical collaborators (often Malcolm Jones III or John Beatty), but Eric Layton. I'm not sure who veered in style — Jones taking on a new look or Layton inking Jones in a very different way.
Still, Jones excels at using body language and shadow, but there was a lot of "talking heads" in this book.
Story: This issue/arc is written by Tony Isabella and Stephen Susco, and the pair does a good job with the dialogue, but the plot is typical writing-for-the-trade style. Its too early to tell exactly where the story is going, but I just don't have enough mystery to necessarily keep me buying.
I only own a single issue of an original Atlas-Seaboard Comic ("Tigerman No. 2," I believe ), so I have no idea what "The Grim Ghost" is supposed to be about and after reading issue one, here's my best effort to summarize it:
The Grim Ghost is a protector of souls in purgatory. He's a former highwayman (as in a bandit from the 1700s) and he is directly opposed by his former life's nemesis, who is a collector of souls in Purgatory. Sometime recently, The Grim Ghost brought along a sidekick. He's teaching the sidekick to use his soul-charged powers to be another protector.
(SPOILER ALERT) At the end of the issue, we see that the Grim Ghost and the sidekick are one in the same person. (END SPOILER ALERT).
I'm not sure if that's right. I'm not sure how closely it follows the previous Grim Ghost.
The Future: A promo inside the book shows a series where all the Atlas heroes have banded together to fight a common enemy. Does this mean the Grim Ghost is going to get a "transfer" to the real world? If that is the case, I think THAT should have been the finale to this issue. Right now, I'm not terribly interested in a quasi-religious battle over people's souls in the Phantom Zone.
Will I buy the next Issue? Definitely not a "must buy," but I will thumb through it and decide then. I will probably try the other issue No. 1s of each of the other titles.

THE GRIM GHOST No. 1
Atlas Comics
$2.99
Written by: Tony Isabella and Stephen Susco
Art by: Kelley Jones
Two stars out of four stars. (A new look for the artist keeps me from thoroughly enjoying that aspect, and an incomplete story just isn't enough to judge it on.)