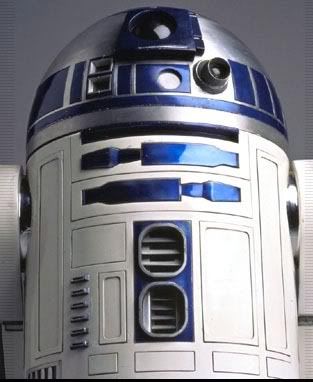 Comics on the Brain is proud to say that it loves "Star Wars" movies. Here at COTB we collect action figures, build Lego sets and generally dig all things Star Wars related. Heck, just the other day, COTB was reminiscing about the Star Wars stamp set.
Unfortunately, not one member of the COTB staff (which means me) has the time, money or skill to do what one group of Star Wars fans does: They build their own R2-D2 replicas.You can't doubt the enthusiasm of the folks at Astromech.net, who have organized themselves into a club called the R2 Builders Group.
They spend thousands of dollars bringing the spunky little robots to life.Along the way, they've also put together a list that points out every "Astromech" droid that puts in an appearance in the six Star Wars movies.
(In the Star Wars universe, "Astromech" is the corporation that builds the R2-style droids.)
They also explore what's known about each of the robots; so, for example, you can learn why Obi-Wan's robot only has a head or which droid flies with which pilot.And you know, for "Star Wars" fans, that kind of stuff matters.