Originally published on June 6, 2010
CotB likes a good concept.
And when we first saw the "Neighbors from Hell" trailer at our local multiplex, we were kind of amused. And since it was going to be on cable, I wouldn't have to shell out nine bucks to see it.
The setup: Satan, the netherworld's biggest bad guy, ships a family of demons from Hell to raise a little bit of it on earth.
As a drama, it wouldn't be anything CotB would be particularly interested in unless it was on pay-TV. But an animated comedy for basic cable? Now that ought to be gold. The animation style was fun and amusing looking and perfect for skewering suburban hypocrisy.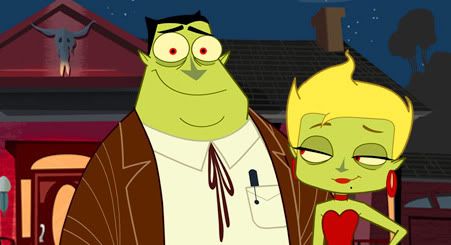 The voice cast (Molly Shannon, Will Sasso, Patton Oswalt, Kurtwood Smith) offered some real talent.
But "Neighbors from Hell" ended up falling short. It was irreverent, sure, but not enough. It crossed some boundaries, but they seem like they've been crossed before. It even had a healthy dose of zaniness, but heck we can get that by watching "Tom & Jerry."

Maybe it was just trying to hard, but the devil is in the details and it's clear "Hell's" script needed some extra work.
Where "The Simpsons" shines for clever plots, this kind of sputtered along.
Where "The Family Guy" goes all out for a laugh, this kind of just putters along.
Where "South Park" points out our fallacies, it offers far too many of its own.
Despite all this, don't put a pitchfork in "Neighbors from Hell" just yet, CotB can see that this show ought to be better than what its pilot offers. We'll give it a few more episodes and see if they can turn up the heat.
It premieres at 10 p.m., Monday, June 7, on TBS, but CotB wouldn't advise you stay up for it.