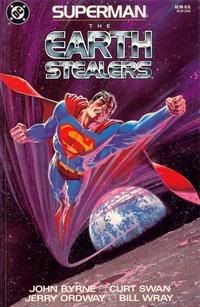 I often spend my Saturdays on the great scavenger hunt that is yard-sale culture. Comics are often over-priced by people who believe they have some value just because they're 10 years old. Conventional wisdom would certainly imply that comics, being a collectible, have some value. Unfortunately in the modern comic-book collecting scene it's not true. Unless you're selling books published before 1980 or so, comics aren't likely to even hold their cover price.
Sure, you could store your comics for a long time. Even so, the value of a comic isn't going to rise too much. Why? Three reasons.
Firstly, since becoming a "collectible" most readers have actively sought to store and preserve their comics. The problem lies in that EVERYONE is saving their comics. That means that, for the most part, collectors have exactly what they want. Therefore, there's no scarcity. Further, this situation makes it almost impossible to sell your comics at "collector's guide prices."
Secondly, there's a thriving reprinting trade within the comics scene. These reprints are bound together in big books, and far more convenient to store, access and use for the average comic reader.
Thirdly, even comics that are billed as special on the cover are often unlikely to be valuable. Remember, even comic-book companies try to trick you into buying books with advertising and gimmicks:
Captain Falcon's new costume!
Special 48-page story!
The first appearance of Mr. Speed!
Square-bound books.
Die-cut covers!
A "hot" artist or writer takes over the comic.
Origin issue of Rhinoman!
Gold-foil logo.
Any cover that says "collectible" or "anniversary."
… and so on.
Yeah, it's all pretty meaningless and with some very rare exceptions, will generate no extra value to a seller.
With that in mind, my advice is to price your comics to sell. My advice:
For comics from the 1990s and up, I'd suggest 3 for $1.
For comics from 1980 to 1989, I'd suggest 2 for $1.
For comics from 1979 and earlier, I'd hunt down a price guide, friendly collector or comic book store and see what they'd suggest. This era is the only one likely to generate some real money. Even still, many of these oldest comics are still hard to sell because only comics in top-notch condition are desirable to most collectors.
On eBay and other auction sites, try to sell your comics in batches of 10 to 20. This will help you clear out duds along with highly-desired comics.
Also for eBay, assemble 10-20 issue runs of a specific title and sell them as a bundle.