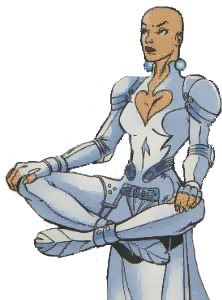 And now we blaze a trail to …
OREGON

PORTLAND (Moondragon, Quasar/Phyla-Vell, Femizons, Guardians of the Galaxy)
The high-level telepath, Moondragon, resides in Portland, though she has little attachment to the city or the state. Instead, she found the area an appropriate place to set up shop as she works to reform female supervillains after wrestling control of the Femizons from Superia. As such she has slowly worked to change the public perception of the group (not that the public knew much about it in the first place) to a positive one. Of course, with Moondragon's abrasive personality it's been a difficult challenge, but ever so slowly, she's changing herself and the public opinion of the "second-rate halfway house for female supers."
Notes: I was reading some Avengers recently and really surprised how lively of a character Moondragon is. If she were introduced today and given hair, she probably would be a hit. But back then, she was simply an arrogant witch. In the comics, she's pretty aware of how other people view her, and it makes sense that she'd isolate herself in a relatively out-of-the-way state to build a reputation. Sure, she'll fight anyone who attacks her, but she's not the type to go out of the way to "do good."
Led by Moondragon, the newest incarnation of the Femizons features a number of female supervillains who hope to redeem themselves in the eye of the U.S. government. They've reformed for any number of reasons, including finding religion, having children or encountering tragedy. Run out of Portland, the team is extremely low-key and seeks no media attention. Instead, they work to make Oregon and surrounding states better bit by bit. Among the active Femizons are Anaconda, Arclight, Bombshell, Chimera, Ice Princess and Whiteout.
Notes: Through most of their existence, these girls tend to follow the same pattern: Part 1 — Male-acting women who are out to prove how much better they are then men. Part 2 — Underling to a tougher or smarter male villain. Part 3 — Forms a sisterhood with another one or two female villians to pout and do some feminely righteous acts. I don't expect this version to be any different.
When on Earth, the current Quasar, better known as Phyla-Vell, stays with Moondragon. Likewise, the new Guardians of the Galaxy uses Moondragon's quarters as their (rarely used) Earth base as well.
Notes: I haven't read the new version of the Guardians, but I imagine they'd stop by Earth every once and a while.
EUGENE (Gladiatrix)

Upon being granted amnesty from her past crimes, the one-time super-wrestler and supervillain known as Gladiatrix moved from the Femizon headquarters to Eugene. There she's been wildly popular, thanks to her brash and outgoing nature.
Notes: There's absolutely nothing special about the Gladiatrix. She's a She-Hulk clone with none of the attitude. She's a Ms. Marvel clone with none of the style. But in recent years, she's turned a new leaf, and went from bad to good. So why not award her a city of her own? If that's the case, the first thing she would have to do is get a new costume and a better haircut. Man, is that an ugly look (see below).
What's "Relocating the Marvel Universe," anyway? Well, check out the first entry here. Or see the complete list of states here.