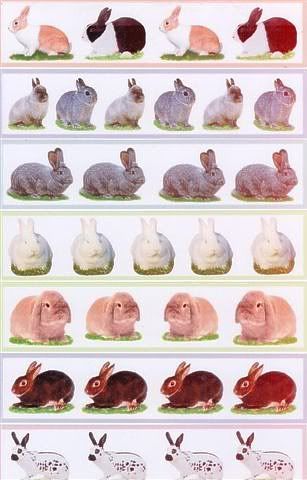 Yesterday, the family and I traveled about an hour north to fetch the newest member of our family, a cute lop eared rabbit. His given name is Luigi, but my young one has re-christened it Brownie. Yeah, not to original, but it's to be her pet.
Brownie came with a great wire cage and tubs of supplies, so he was a real deal. Not to mention that he's completely potty trained. Yep, he actually goes to a litter tray to do his business. That means he can potentially be a real member of the family, rather than a "thing in a cage."
The big question is how our indoor-outdoor cat will treat him. This is a cat who routinely captures and rends baby bunnies from the wild.
Outside, we have a small fenced in portion of our yard that will make a perfect rabbit run to really let him get his exercise. This run appears to be a regular "rabbit-proof fence" in that I don't think he'll be able (or desperate enough) to escape.
We got him on no whim either. We've debated the idea for some time, and conditioned our young one that it will be her responsiblity. Sure, she's only four, so in truth most of the responsiblity will be mine, but it will be a good lesson no matter what.