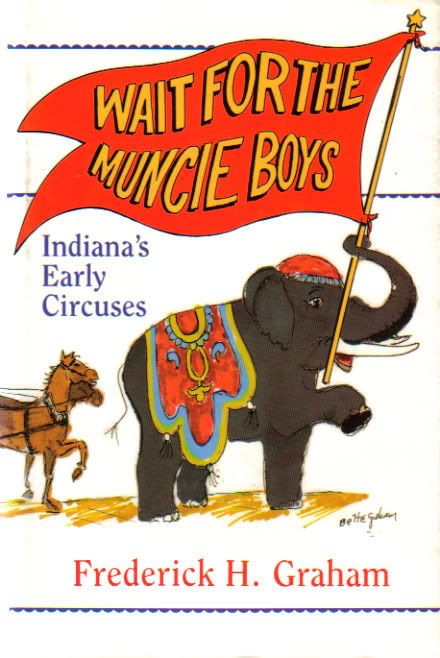 I picked up "Wait for the Muncie Boys: Indiana's Early Circuses" on a complete whim one day at a discount book store. I don't have any particular interest in the circus world, much less its role in Indiana's history. That being said, I am interested in cultural history, even if it is in Indiana.
Written by Frederick H. Graham, the "son of circus highwire great Billy Graham," the book's main theme is "here's everything I know about circuses in Indiana." It's not about how Indiana culture helped shape the circuses of the 19th and 20th centuries. It's not a study of why so many "Muncie Boys" ended up running away to the circus.
Nope, it's just a very matter-of-fact vomiting of information on circuses with Indiana ties. Now, there's absolutely nothing wrong with that, I'm just telling you in case you were to hunt down the book with some great expectations.
At 142 pages, this is my kind of history book. It's short, to the point and illustrated with all sorts of neat circus posters and advertisements. A perfect breezy read that you can polish off in a few hours.
Yeah, it's true. I'm not one for 500-page monsters. I like things short, sweet and easily digestible.
The book covers the stories of dozens of Indiana natives and transplants. I was particularly amused by the story of "Buckskin Ben" Stalker and his circus, Buckskin Ben's Wild West, Dog and Pony Show. In it, Graham describes how Ben came from a mysterious background — one that Ben didn't even fully understand. Graham writes how Ben remembered realizing at age four or five he had no idea who his parents were, and how he had been taken care of for years by a mountain man who was clearly not his father. Later on, Graham amusingly addresses Ben's time as a Texas Ranger and his knife-throwing act that really ticked off his wife.
Like many others in the book, Stalker wasn't born or raised in Indiana. Instead, his circus' winter quarters were located in the state. That simple fact: That Indiana was a huge "wintering" locale for circuses is the only "thread" in the book, other than that it's just one life story after another.
Another chapter tells how one circus performer bought an Indiana skating rink. At first, it was to be a joint skating rink and circus-practice area, but requests from local boys changed that. Soon, it was used exclusively for circus training. Apparently, the adolescents were so enamoured with the circus that they rented the facility just for fun — kind of like going bowling or paying for gym membership today.
Thanks to some amusing stories like that, "Wait for the Muncie Boys" has a few interesting sections. It's nothing earth-shaking or stunning, but it's a good basic snapshot of circus life.
"WAIT FOR THE MUNCIE BOYS: INDIANA'S EARLY CIRCUSES"
By Frederick H. Graham
1995
Guild Press of Indiana
Price: ??