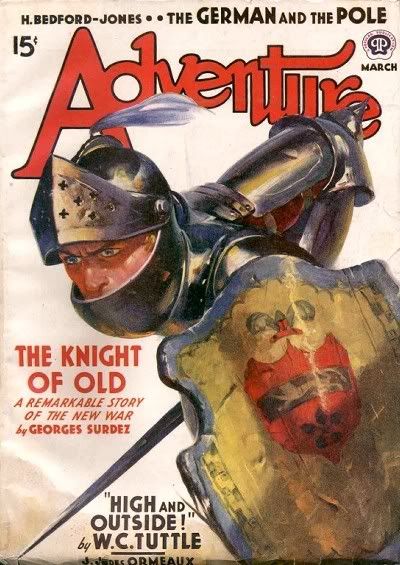 I was reordering checks today, when I saw that the company I deal with has a "Design-a-Check" feature. I was totally jazzed!
In seconds, I was scrolling through a collection of pulp magazine covers that I could place in the design.
Ultimately, I picked the image above. I had it all cropped to focus tight on the knight and his shield. It would have looked great.
Like I said, I was totally jazzed — until I went to check out. For printing 300 duplicate checks, they wanted to charge $62.
Yikes. That's 20-cents a check — and too rich for my blood. A shame, too, because I would have been righting a heck of a lot of checks — just to show them off.
The centerpiece story for this issue of "Adventure" (March 1940) features a tale by Georges Surdez, who according to PulpRack.com was a frequent contributor to the magazine.
Surdez is also credited by The Straight Dope as being the originator of the phrase "Russian Roulette."
PulpRack.com also says that Surdez' was particularly known for his output of stories about the French Foreign Legion. As an adventure-story concept, you can't help but wonder if he also popularized that theme too.
What's this got to do with my check reorder? Nothing, but it's always interesting to look into that kind of stuff, and that's Your Sound Advice for Today.