The movie trailer to the new Indiana Jones film, "Indiana Jones and Kingdom of the Crystal Skull," hit the Internet today, and it's got the Web buzzing.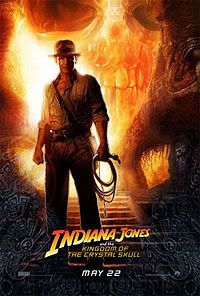 From the trailer, you can see a few things. First off, we see some action inside a huge warehouse. It seems likely that he's inside the mammoth warehouse where the Ark of the Covenant is.
That warehouse was first glimpsed in "Raiders of the Lost Ark."

Later on in the trailer, there's a glimpse of Argentina's Iguazu Falls. This amazing landmark has got to be one of the most beautiful waterfalls in the world.
With that kind of distinction, you can bet it's been used in other films, namely the James Bond flick "Moonraker" and more recently in "Miami Vice."

What's Indy doing in South America? Well, in real life, many of the crystal skulls are alleged to have been created in Central and South America, so that must be the heartland of the "Kingdom of the Crystal Skull" as well.
Is Comics on the Brain excited about a new Indiana Jones film? You can bet your bullwhip on it.