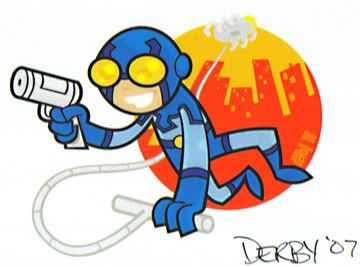 One of my coolest gifts this Christmas came from my friend, Joe, who knows how much I love the Blue Beetle. It's a hyper cartoony version of the hero. Proof that no matter how you draw it, Blue Beetle has one of the best costumes in all of superhero comics.
To me, the Blue Beetle is the modern incarnation of the 1960s TV show Batman. He's more than a bit goofy, but he's got real skill and drive, but that doesn't necessarily get in the way of having a good time. Also, like that version of Batman, he's totally about "tricking out" with all sorts of crazy hardware — like a gun that shoots bursts of air, his mysterious Frictionless Foam and of course the amazing Bugship.
The image itself was drawn by Scott Derby, a Pennsylvania cartoonist from the Philadelphia area. Scott, you certainly captured the essence of the Beetle!