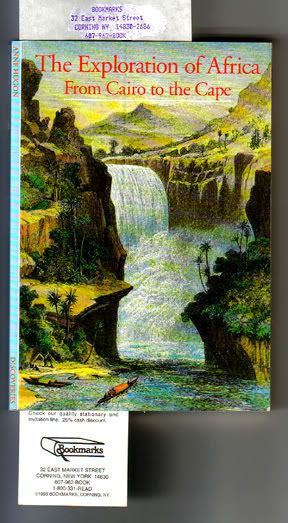 A few weeks before my wife showed me the book with the Nichols pricetag on it, I was searching through my library for some light reading. I happened upon a book about the European exploration of Africa and thought that might be interesting.
The book, "The Exploration of Africa: From Cairo to the Cape," is essentially a miniaturized coffee-table book, so it really is a light read. Lots of pictures and short little articles only a few paragraphs long.
In all, it's been a good book with some interesting stories of the "white man's burden."
But what's really interesting was that when I first opened it, out dropped a reciept from 1993. Yep, I've had the book that long without reading it.
The reciept was from a book seller in Corning, N.Y., called Bookmarks, and back when I was a kid, the place was a paradise.
You see, unlike a library, I could actually keep the books I got there. Additionally, they also sold comics, magazines and all sorts of neat book-friendly trinkets like lights and, of course, bookmarks.
Also stashed between the pages of the book was a Bookmarks brand bookmark. It depicts the Corning Clocktower and has the fancy Bookmarks logo (you can see that at the bottom of the picture).
I really loved Bookmarks. I remember it as being a warm and friendly place that had a big fish aquarium next to the childrens books. It even had a mascot: A long-haired gray cat that lounged around the store. That cat was especially memoriable to me because I had a cat, Teddy, that looked just like it.
Bookmarks is long gone now, having succumbed to the pressures of Barnes & Noble about 15 minutes away.
Too bad, because it certainly added flavor to Corning's lovely Market Street.