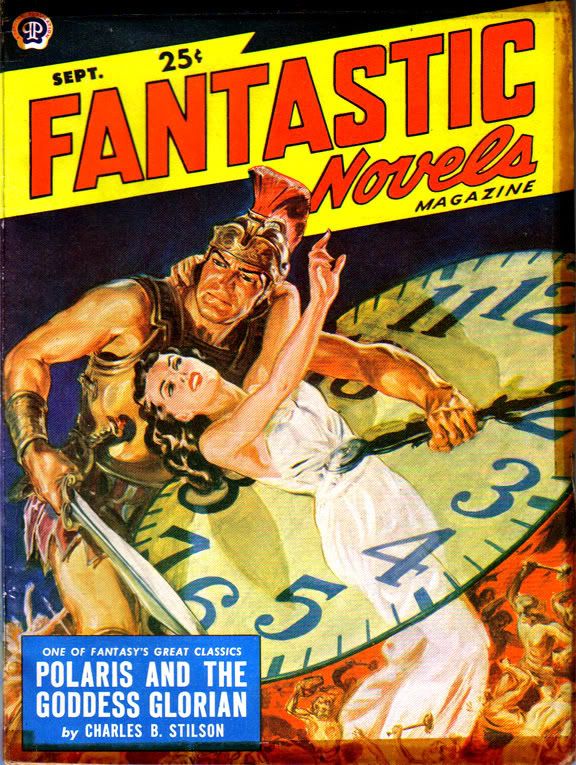 Today, I had the pleasure to go to the York Old Book & Paper Show at the York Expo Center here in Pennsylvania. The show is twice a year, and for a pulp collector — or at least someone who's trying to cheaply collect pulps — it can be a hit or miss event.
Luckily, the fall show was just what I was looking for and I snatched up two pulps for just $11.
Like I said, I collect, but I'm cheap too, so neither was a name-brand pulp.
The first was a $7 purchase of "Fantastic Novels Magazine" from Sept. 1950.
It features "one of fantasy's great classics" "Polaris and the Goddess Glorian" by Charles B. Stilson. Nope, I haven't heard of it either, but I liked the cover enough to be interested. As I purchased it, the seller said this was one of a few Polaris novels, so it looks like I'll be searching around to find them. Inside, it describes this story as "sequel to 'Polaris — Of the Snows" and "Minos of Sardanes."
The inside of the magazine features this description of the story:
"Not yet in the stars of Polaris was there charted a homeward voyage, as he had thought when the cruiser, Minnetonka sailed away from the mystic Sardanes. For there beckoned from the waves a weird Golden Man, calling the intrepid son of the snows from his chosen course, to an incredibly ancient country, and into the strange thralldom of a woman — or was she a goddess? Glorian of Ruthar …"
Most of the magazine is filled by that 100-page story, but it also includes "Friend Island" by Francis Stevens and "Mimic" by David A. Wollheim. Art was provided by Saunders, Paul and Lawrence — and might I say, the interior illustrations are wonderful. There's a great one of a monster scaling a normal city building as a Joe Average watches non-chalantly. I love it!
So how'd I get this so cheap? Well, if you look at the cover scan above, you'll see it's been taped along its three outer edges. Additionally, it's a reprint magazine: "Polaris" is from 1917, "Friend" is from 1918 and "Mimic" was copyrighted in 1942.
This doesn't really bother me. Reprints are all the rage in comic books lately, so I'll happily settle for a few pulp reprints with an awesome color cover and interior art. Now I just have to read the stories!