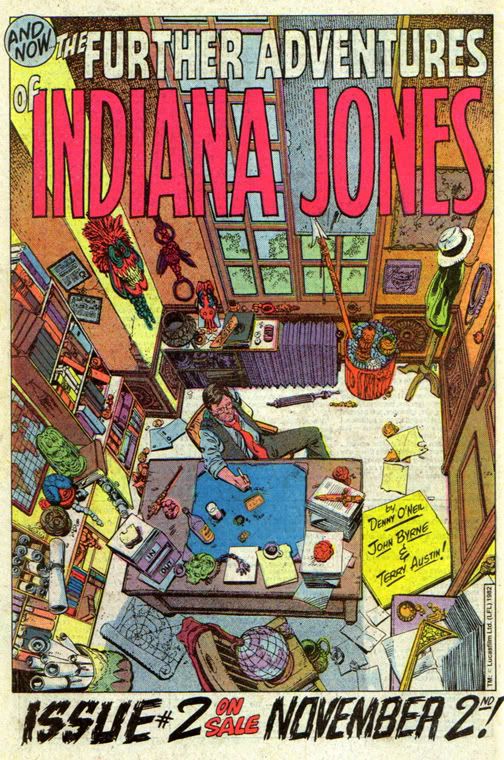 I've been reading a lot of older comics lately. Mostly from the era where I started to collect comics, which falls in the early 1980s. It's been in those comics that I keep running across interesting
full-page advertisments.
Those ads cover things like video games, sports equipment, toys, other comics, candy, hobby material and other items that might appeal to boys.
Among the more interesting ones that I've come across was the one shown to the left. What's so interesting is that I'd never seen this Marvel Comics house ad. It solicits the upcoming arrival of
"The Further Adventures of Indiana Jones,"
a licensed title featuring that archaelogist that we all know and love.
Looking at it, you can see Indy's office filled with all sort of odd items. There's idols, weapons, his bullwhip and other knick-knacks.
Most of all though, I was surprised how unimpressive this advertisement is. In the world of Indiana Jones, it's about as dull as you can get. Why, for example, weren't they using the classic Indiana Jones logo? And the coloring, even for back then, is terribly drab.
And just what is Indy doing? It looks like he's doodling on his desk mat. And where is his left arm? It just disappears.
Yes, this is a strange, bad advertisment. Not exactly what you'd expect from Marvel, Lucasfilm or the names tied to the comic at the time.
Wanna see a larger version of the image? Click on it!