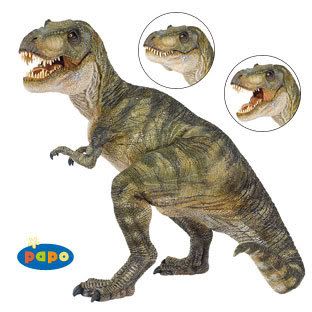 Every time I'm in a hobby store, or one of those places that cater to teachers, I always look for one thing — a hefty supply of Papo figurines.
Papo
(apparently) is a French toymaker that specializes in creating a variety of semi-generic toys that cover broad themes, such as
Prehistory, Knights, Pirates, Safari Animals
and the like.
Now it's quite clear to me that most of these toys are geared toward boys — there's lots of action-oriented themes, but I recently picked up a 2007 Papo toy catalog that showed the company produces a much wider selection. There's also Fantasy themes, Three Musketeers, Princess themes and licensed themes.
As a fan of knights in armor, I've always loved these figures. Their generic nature is good in my opinion, because they force a kid into unscripted play. They push the kid into making up the story.
Likewise, I like that these are highly durable figurines, not action figures with full articulation. Instead, kids have to pretend how the toy moves. They have to imagine their actions. It doesn't rely on pushing buttons or laser sensors.
Instead, they're toys that let kids take control, not the toy designers. That in turn helps build better kids. Far better kids than those who hit a button to watch Elmo do a Chicken Dance.