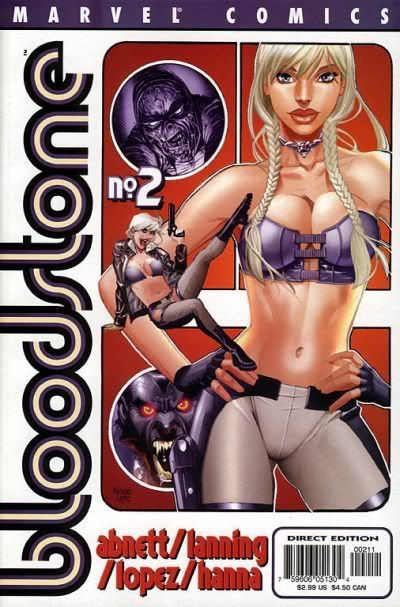 Now I'm not all that familiar with
"Buffy the Vampire Stalker,"
but I get the feeling that the people who put together
"Bloodstone,"
a 2002
Marvel Comic,
were directly inspired by the show.
"Bloodstone" tells of a young, just-entering college blonde who finds out her father has recently died. She's goes with her pregnant mother to settle the estate only to find out that her dad,
Ulysses Bloodstone
, was secretly the world's greatest monster hunter.
He fought
Godzilla-sized beasties
, and he battled vampires and mummies. Along the way, he picked up a gem that gave him superhuman powers of strength, skill and durability. When his daughter,
Elsa
, was given the gem, all those powers — and the responsiblity to hunt monsters — went to her.
Along the way, she finds herself surrounded by an interesting cast of characters — a
Frankenstein's monster
, a
Living Mummy
and even a vampire.
But being the plucky young woman she is, Elsa takes it all in stride and struggles to live a normal life with all this weirdness happening around her.
Sounds awfully similar to "Buffy" to me.
But you know what, it was still pretty good. While the art was mediocre to passable (though the covers are awesome), I loved the fast-paced story and snappy dialogue. The characterization of Elisa was a hoot too, and certainly fun enough to want to see more.
Maybe it's that I'm not a "Buffy" fan myself that allowed me to enjoy it, but I did. And at the very least, you can say that imitation is the sincerest form of flattery.
Bloodstone No. 1-4 (2002)
$2.99
Marvel Comics
Written by Dan Abnett & Andy Lanning
Art by Michael Lopez and Scott Hanna
Three stars out of Four (Fun and playful)