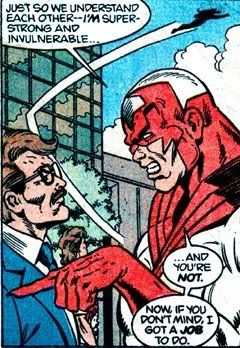 I got thinking about all the jobs I've held over the years. From one-shot day work to lengthy assignments to free-lance projects, I've had a lot. Probably no more than anyone else, mind you, but here's what I could remember:
Laborer (Three or four days of work digging ugly dead bushes out of a farm)
Farmhand (One week long while the farmer was on vacation)
Video Rental Clerk (For three or four years)
Cashier (At various times for various companies)
Stock Picker (Three or four weeks for a pet supply mail-order company)
Store Stocker (For a few months)
Store Disassembler (For about a month after place I worked for closed)
Copy Editor (Three years one place, one year another and from 1997 to now)
News Editor (Three years now)
Projectionist (For six months at a $2-Dollar theater)
Writer (Free-lance assignments and currently)
Dishwasher (For two years while at college)
Steak Cooker (For a semester — I don't know how I got that job. My steaks were horrible!)
Cartoonist (Free-lance assignments)
Mural Maker (Three times now)
So, what sort of jobs have you done in your life?