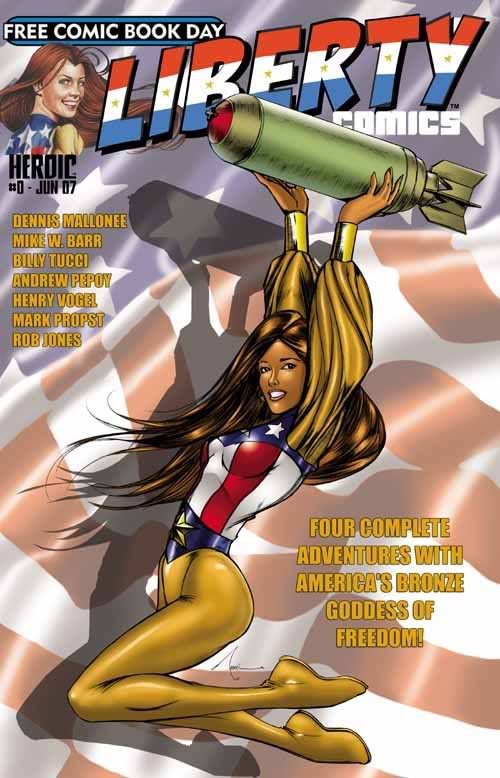 I'm a week late in letting you know, but we had a great time at 2007's Free Comic Book Day.
There are two comic book stores in my town so I zipped out to both. At Comix Connection, we picked up the basics: Spider-Man, Justice League of America and Superboy and the Legion of Superheroes. Those three were for the little one.
A week later, Justice League of America is in the shambles. It's been battered over a week of being thumbed through, stared at and played with. The little one loves Wonder Woman. I mean, she looooooves Wonder Woman, and this issue featured her prominently.
At Comix Connection, there was a nice sale, so I also picked up a graphic novel of Asterix too. I also picked up the first ever action figure of my man Booster Gold. He's now sitting proudly on my desk at work for people to give quizzical looks at. High collar and all, I love that guy!
Over at the other store, Comic Store West, I snagged copies of Liberty Comics and Lone Ranger. That store was also having a sale that I couldn't resist. There, I bought cpies of The Mercenary, The 24-Hour Comic Book trade and the famous Battle Box for help with my gaming.
So why bother giving you a laundry list of all the stuff I got? Well, Free Comic Book Day is a helluva a lot of fun. It's like a holiday for geeks. You go, chat up all your fellow customers, snatch all those things you've had your eye on for months and come back with bags that are fat with shiny new stuff.
I'm not sure who thought of it, but FCBD is just what the comic book industry needed. Aside from giving a small little reward back to the devoted fans, it's also a key way to bring interest from the outside. Media and families show up. The stores are prepped and look great. The clerks do their best to especially friendly.
In short, Free Comic Book Day makes us look a little bit normal, and we certainly need some help with that.