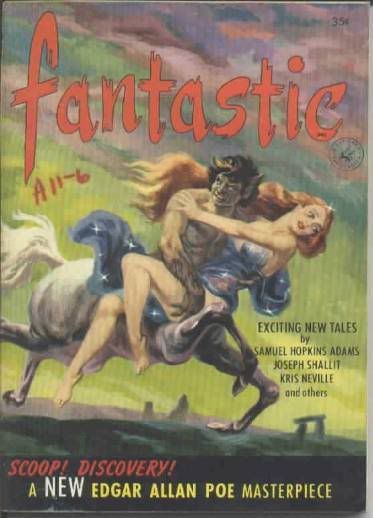 I've finished reading
"Time Travelers,"
a Barnes & Noble (ISBN 0-607-0914-9) anthology on — you guessed it — time travel. Among the other stories is "
Time Bum,"
by
C.M. Kornbluth
. The above image shows the 1953 issue in which it can be found.
In the story, a con man is inspired by a pulp magazine (which is a pretty funny sequence) on a whole new type of con. He sets up his new landlord, and makes the fellow and his wife think he's a member of the Time Police, a timeline hopping law enforcement agency.
In an effort to extort the supposed time cop, the couple gets ready to hand the guy thousands of dollars of jewels so he can "duplicate" them with a special device he has.
When the "time cop" fails to show up for the handover, the couple just assume he was nabbed by the present-day cops for trying to pull a con.
But, as the story comes to an end, we find out that the conman was arrested and imprisoned by the REAL time cops for impersonating an officer and coming a little too close to describing their ultra-secret operations, even though he thought he just made them up.
You can find out more about this particular issue here.
And cover artist Robert Frankenberg recently had a show, which you can read about here.