Originally posted at Pop Quiz, Hotshot on 3/28/27 for The York Dispatch.
The last time I went to a concert I had free tickets. That was for a Weird Al Yankovic show at The Strand-Capitol. Yankovic is a pretty amusing guy and all, but there's no way his performance, no matter how amusing, is worth a $40 ticket price.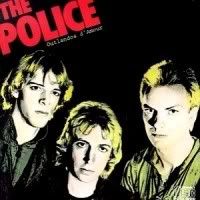 No matter what concert fanatics say, 40 bucks for a lousy view and off-key singing isn't my idea of a good time.
Now in this post-2007 Grammy Award world, my favorite band in the world, The Police, have put aside their differences to go on a nationwide tour. They're even stopping over at Hersheypark for a show.
Tickets go on sale Saturday, so in my concert-going innocence, I figured that tickets might be within my financial grasp. You know, maxing out at say $75.
And what's the ever-popular Ticketmaster charging? At the low-end, you can get in for $55. At the high-end: A paycheck-blowing $230. And that, of course, doesn't include parking.
For that kind of money, Sting, Stewart Copeland and Andy Summers need to personally serenade me, offer me drinks, give me a back rub, and walk me back to my car when the concert's done.
But then again, maybe I'll win the lottery between today and Saturday.