Maybe it was instinct. Maybe it was fate. I'm not sure.
I
was thumbing through a box of back issues in Castle Comics in
Portsmouth, Ohio, when I hit upon an issue of Peter Parker, the
Spectacular Spider-Man that I didn't have. It certainly was an
eye-catching variation of the regular logo. This one was redone to make
it look like it was glittering gold.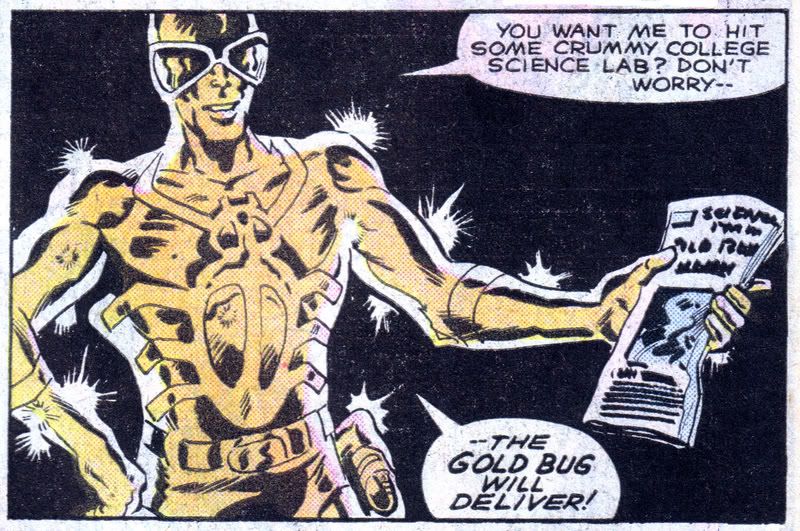 So I pulled it and checked it out. "Beware the Glittering Gun of … Gold Bug!" its cover blurb said.
Goldbug? Wasn't he the one I saw in Solo Avengers a few years back, I wondered.
So, I bought it and let it sit in my "to read" pile for a while.
Months later, I cycled around to read it and opening up the first page, I must have gasped.
There
he was … The Blue Beetle. Except he wasn't blue, he was gold. It was
a costume design swiped straight off of Steve Ditko's drawing board.
Now
anyone who knows me knows there are characters I like and there are
characters I love. Blue Beetle is at the top of the list in the "love"
category.
And right there before me was Marvel's nod to Blue Beetle. Who'da ever thunk it?
Naturally,
this piqued my interest in this odd little super villain. Who was he?
Where did he first appear? What other heroes and villains had he run
into?
So these burning questions triggered a hunt. Not just any
hunt, but what I call a "Weather Dominator Mission." What's that? Well,
the "Weather Dominator Mission," or WDM for short, is a name inspired
by an old G.I. Joe cartoon mini-series, wherein the Joes run all over
hell and high-water in search of the missing fragments of the
blown-apart Weather Dominator Satellite. Once they get them all, they
piece it back together and set the out-of-control climate right again.
For
me, it's the same in a comic-book WDM. It's part obsession, part
adventure story. My goal: Get all the appearances of a particular
character. Every one. From his origin story to his most recent battle.
Almost like the climate in those episodes of G.I. Joe, the character
isn't set right in my mind until I find his whole story.
So, about a
eight months ago, Comics on the Brain central control activated a "WDM:
Goldbug." The first thing I did was jump on the internet and go to www.marvunapp.com.
Thankfully, the good folks there had a lengthy file on him. For me,
the biggest surprise was that Goldbug hadn't slipped away into
comic-book oblivion. Someone at Marvel HQ recently got Goldbug under
their skin: He was popping up in the post-Heroes Reborn Marvel
Universe. For instance, he made fairly significant appearances in
"Secret War" and possibly appeared in the 1997 version of "Heroes for
Hire." He was turning out to be a veritable staple of the Marvel
Universe. He was a sort of backup, backup, backup villain that was good
for filling out crowd shots and bar scenes.
Interesting as that was,
my real hunt was for the other back issues he appeared in — namely
issues of Power Man and Incredible Hulk.
Over the next few months, I was able to pick up more and more entries in "The Goldbug Story."
With each new "WDM: Goldbug" comic I found, a little smile crept onto my face.
Reading
them, I was amazed at how often he changed. His Blue Beetle-styled
motif didn't last long, but neither did any other variation of the
Golden Grub.
In fact, he was turning out to be the perfect example
of why some comic-book writers and artists ought to do WDM's more
often. Goldbug changed in every storyline. One time he was just wearing
your standard, run-of-the mill underwear and tights getup, the next
time he was in a sort of bug-styled Iron Man armor.
["CIVIL WAR" SPOILER AHEAD]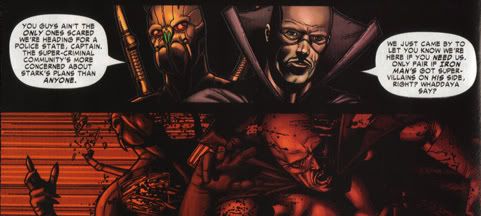 But
what really surprised me was Civil War No. 6. Inside Marvel's biggest
comic series in years was Goldbug. Of all the characters Mark Millar
could have selected, he picked Goldbug. And then, just two panels
later, he was dead at the hand of the Punisher. Wow.
Still though,
his apparent death doesn't complete WDM: Goldbug. Even now, I haven't
got every appearance. Only two weeks ago was I able to track down his
first appearance in Power Man No. 41.
Until I get them all, my picture of him is incomplete.
You
see, it's understanding his history — or any other character that's
the subject of one of my WDMs — and how it helped plug one little hole
in the Marvel Universe that makes being a comic-book collector fun.
[END SPOILER]
Now
don't get me wrong. This whole column isn't about an obscure, slightly
absurd Power Man villain. It's about the hunt. It's about the "holy
grail" quest that drives all collectors.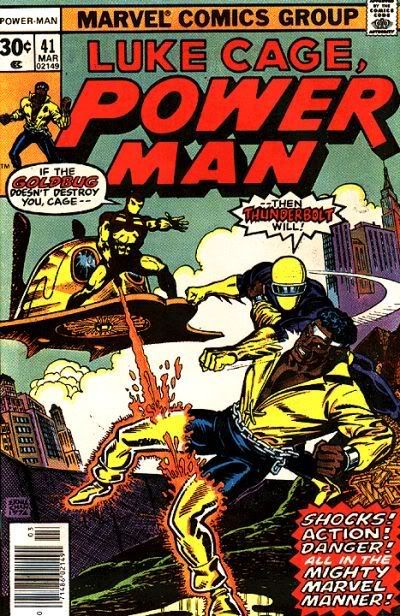 Goldbug isn't my first WDM,
after all. That distinction probably goes to Marvel's Jack of Hearts.
Along my 25 years of collecting comics, there's been many. Cat-Man, the
Ringer, Kadaver, Son of Vulcan, Hawk & Dove and the Unicorn have
all been subject to the same sort of comic-book store safari.
Ringer?
Kadaver? Why bother fish around for the appearances of these lame-os? I
guess I've got a soft spot for them. After all, these guys aren't ever
going to merit their own trade paperback. How else can I understand
what goes on in their heads? How else can I dissect every nuance of
their being.
It's about being able to say "I know everything there is to know about Klarion the Witch-Boy, or Goldbug or whoever.
It's
the thrill of searching every store, scouring every convention and
bidding in every online auction until I can cross a WDM off my list.
Because when my hunt is over, I'll finally piece their stories together. I'll finally know.