This review originally appeared in The York Dispatch on Thursday, Nov. 30, 2006.
Somewhere between an episode of "Xena: Warrior Princess" and the blockbuster movie "Independence Day" lies the TNT original movie "The Librarian: Return to King Solomon's Mines."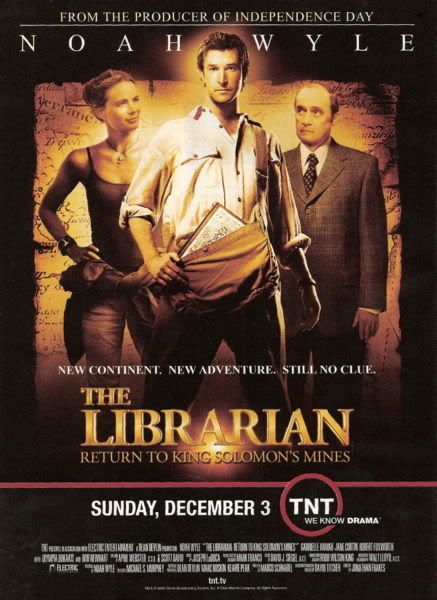 Just like "Independence Day," the film is overstuffed with brilliant special effects — and just like an episode of "Xena," it's loaded with fun moments and belly laughs.
Starring is Noah Wyle of "ER" fame as Flynn Carson, a nerdy librarian whose job description reads more like Indiana Jones' than the lady who shushed you at school. You see, Flynn is a special sort of librarian — he's tasked with recovering and cataloguing all the known weird objects on Earth. From dancing swords to crystal skulls, it's all stored away in a secret museum in the Metropolitan Public Library. It's there that these mysterious and powerful objects can be safeguarded from evil-doers bent on doing the evil they do.
"Mines" is the sequel to 2004's "The Librarian: Quest for the Spear," and we see some familiar faces from the first TNT film, namely Bob Newhart and Jane Curtain. As Flynn's co-workers, the two perfectly cast comedians add a second layer of humor to the story. Newhart plays Judson, Flynn's deadpan guru, and Curtain reprises her role as the penny-pinching Charlene.
In a movie like "Mines" the plot is generally irrelevant; needless to say, it gets Wyle a chance to hook up with Gabrielle Anwar ("Scent of a Woman"), dig through ancient crypts, traverse lava pits, uncover secret organizations and foil a world-altering magic spell.
"Mines'" solid cast is backed by the likes of sci-fi producer Dean Devlin, best known for the aforementioned "Independence Day" and directed by Star Trek's Jonathan Frakes. With a pedigree like that, you know, at the very least, "Librarian" is going to be entertaining for everyone in different ways. Kids will love the high adventure. Parents will snicker at the jokes.
Sure, it's low budget — think of August-release action movies — but considering that it holds up to the fun of the original, "The Librarian: Return to King Solomon's Mines" is long overdue.
"The Librarian: Return
to King Solomon's Mines"
Starring: Noah Wyle, Gabrielle
Anwar and Bob Newhart
Director: Jonathan Frakes
Broadcast: TNT 8 p.m. Sunday
(And to help you catch up, the first "Librarian" film airs at 3 p.m. Sunday)
Three stars out of Four.