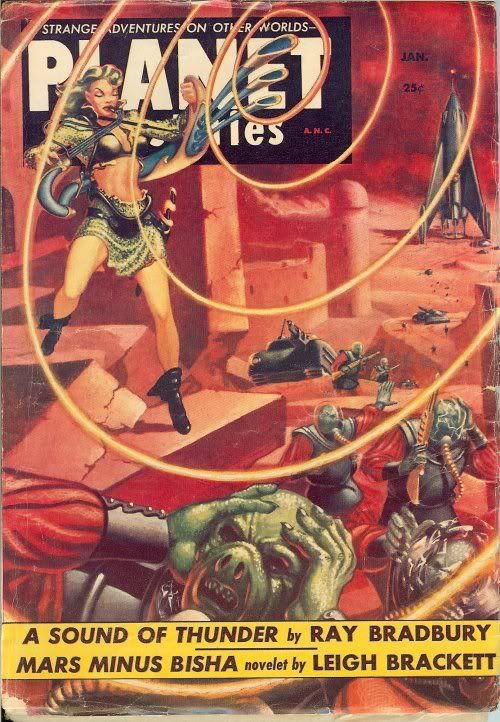 BooksFromTheCrypt.com features a new pulp cover every day, and this one was today's selection.
This stunning cover shows something that doesn't happen too often in pulp covers — the art has obscured the title. Nowadays, magazines do this all the time, but back then it was a bit harder to do from techical angle.
I have to say, the spiral effect and the blocked logo really make this cover stand out.
The feature story, "A Sound of Thunder" by Ray Bradbury, was made into a movie in 2005 for mostly disasterous results. You can read what the good people at IMDB.com think about it by going here: http://www.imdb.com/title/tt0318081/usercomments
Here's what Books from the Crypt has to say about the contents of the book:
PLANET Stories: Jan. 1954 – Love Romances, NY; pulp; Vol. 6, No. 4. Cover art by Freas. Includes "A Sound of Thunder" by Ray Bradbury; "B-12's Moon Glow" by Charles A. Stearns; "The Woman Stealers of Thrayx" by Fox B. Holden; "George Loves Gistla" by James McKimmey, Jr.; "The Crystal Crypt" by Philp K. Dick; "Feline Red" by Robert Sampson; "Narakan Rifles, About Face!" by Jan Smith; "Mars Minus Bisha" by Leigh Brackett. Illustrated by Emsh, Freas, and others. .