It seems like I was setting myself up for this, but in today's mail, I got another one of my favorite magazines — Dungeon, a magazine for Dungeons & Dragons enthusiasts.
Dungeon typically features a number of game scenarios that players can use in their home games.
The magazine is always beautifully illustrated and the adventures are often top notch. In fact, I've even had three of my own adventures published in earlier issues.
This month's issue features a cover that made me uncomfortable, and I had to let the Dungeon staff know about my concerns.
Read on:
Dear Dungeon staff,
Seeing the cover of
Dungeon No. 140
really disappoints me. I know I'll be mocked and derided by a certain portion
of
the role-playing-game community for this opinion, but I don't care.
I think the your selection of the archetypal "devil" for Dungeon's cover image does nothing but harm the
Dungeons & Dragons
hobby as it continues to struggle for acceptance in mainstream society.
This is just the kind of image that religious fundamentalists seize upon to say that this hobby is Satan's work.
I'm a
Christian
who plays D&D. I go to church every week and attend
Bible
studies. To me D&D doesn't conflict with my faith because I understand that D&D is just a game. I know that the adventurers are good and they strive to make the world a better place.
Still, this cover will only cause trouble in my house. My wife, who is also a Christian, does not like D&D because of its elements of magic and the supernatural. I do my best to defend the hobby — explaining the merits of it and the enjoyment I find in the game — but this image is sure to upset her.
I think a more logical choice for your cover would be to have
Mephistopheles
engaged by some adventurers, being viewed from afar or to simply highlight some other adventure on your cover. What I wouldn't have done was use my cover to portray such a figure as a confident, muscular and handsome character.
Of course, you know what sells to your readers better than I, and it is them whom you must entice.
If I weren't a subscriber, this issue would have stayed on the rack at my gaming store and I would have spent my $7.99 on something else. Since I'm stuck with it, I'll simply be cutting the image off the cover.
Despite this criticism, I wish you the best of luck with your publication and look forward to more adventures in the coming months.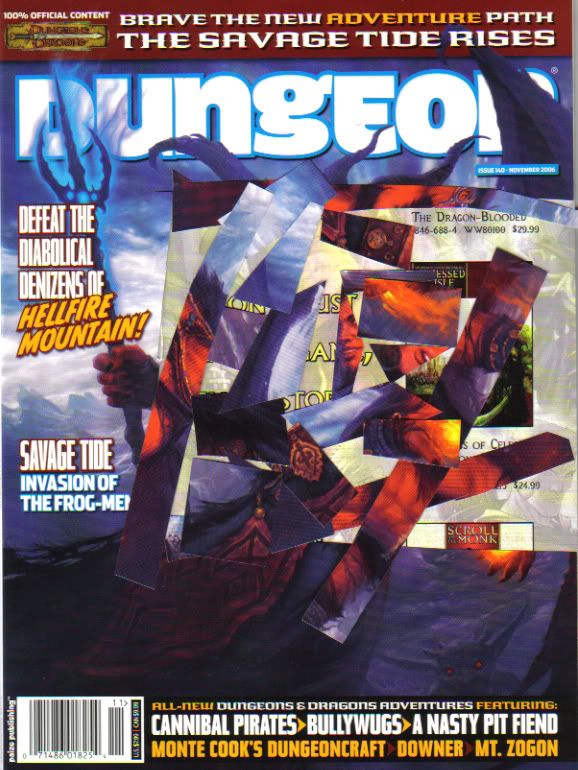 The above image is an altered version of the cover with the "devil" image hacked out. I will also say that the cover art, on a technical level, was top notch, and I have no beef with the artist himself.
Now, I don't know if this letter is going to unofficially end my free-lance career with Dungeon — I certainly hope not. I greatly enjoy the book and the opportunity loose my creativity on the world.
Still, I just had to speak my mind.